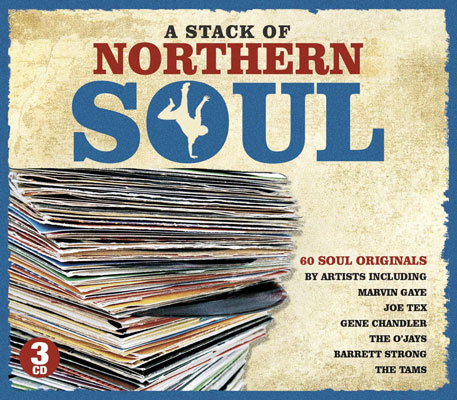 A good few of these budget CDs kicking around right now, with the A Stack of Northern Soul box set adding to the list in the next couple of weeks/ It has one thing on its side though – it is very cheap.
As for the content, you are looking at three CDs and a total of 60 tracks, all of which seen to hover between mod and northern soul. It's a bit of a mixed bag as ever, but there are surely enough decent tunes on here to make it worthy of the price tag.
That price? Just £3.99. Tracklisting below.
Find out more at the Amazon website
Tracklisting:
Disc: 1
1. Let's Stick Together – Wilbert Harrison
2. Last Night – The Mar-Keys
3. Tell Him – The Exciters
4. You C'ant Sit Down – Phil Upchurch
5. Cry To Me – Solomon Burke
6. Gonzo – James Booker
7. I Like It Like That – Chris Kenner
8. A Certain Girl – Ernie K-Doe
9. Road Runner – Bo Diddley
10. A Song Called Soul – Gene Chandler
11. I've Got A Claim On You – Betty Everett
12. Turn On Your Lovelight – Bobby Blue Bland
13. Soul Twist – King Curtis
14. Keep Your Hands Off My Baby – Little Eva
15. If You Gotta Make A Fool Of Somebody – James Ray
16. Some Of Your Lovin' – Johnny Nash
17. Pride And Joy – Marvin Gaye
18. Bad Boy – The Donays
19. Fingertips – Stevie Wonder
20. Comin' Home Baby – Mel Torme
Disc: 2
1. Stubborn Kind Of Fellow – Marvin Gaye
2. Let Me Be Your Boy – Wilson Pickett
3. Sugar Dumpling – Sam Cooke
4. Catch That Teardrop – The 5 Royales
5. A Shot Of Rhythm And Blues – Arthur Alexander
6. Baby Cakes – Dee Dee Sharp
7. Any Day Now (My Wild Beautiful Bird) – Chuck Jackson
8. Daddy Rollin' Stone – Jimmy Ricks And The Ravers
9. Don't Mess With My Man – Irma Thomas
10. This Little Love Of Mine – Buddy Ace
11. Jamie – Eddie Holland
12. She's A Trouble Maker – The Majors
13. Hush Heart – Baby Washington
14. What Good Am I Without You – Jackie Wilson
15. He's The One That Rings My Bell – Sherri Taylor
16. Don't Let Her Take My Baby – Mitty Collier
17. Miracles – The O'Jays
18. If Your Mother Only Knew – The Miracles
19. Don't Feel Sorry For Me – Jimmy Ruffin
20. Misery – Barrett Strong
Disc: 3
1. The Rib – Joe Tex
2. Hitch Hike – Marvin Gaye
3. Delilah – Major Lance
4. Disillusioned – The Tams
5. Your Heart Belongs To Me – The Supremes
6. Check Yourself – The Temptations
7. When You See Me Hurt – Carl Lester
8. Respectable – The Isley Borthers
9. Way Over There – The Marvelettes
10. Hold On – Dee Clark
11. Have Love, Will Travel – Richard Berry
12. Determination – Smokey Robinson
13. I'm Telling You – Jerry Butler
14. Seven Day Fool – Etta James
15. Just A Little Bit – Tiny Topsy
16. Chills And Fever – Ronnie Love
17. I Wonder If Your Love Will Ever Belong To Me – The Pentagons
18. Whose Heart Are You Gonna Break Now – Don McKenzie
19. Bye Bye Baby – Mary Wells
20. Come To Me – Marv Johnson