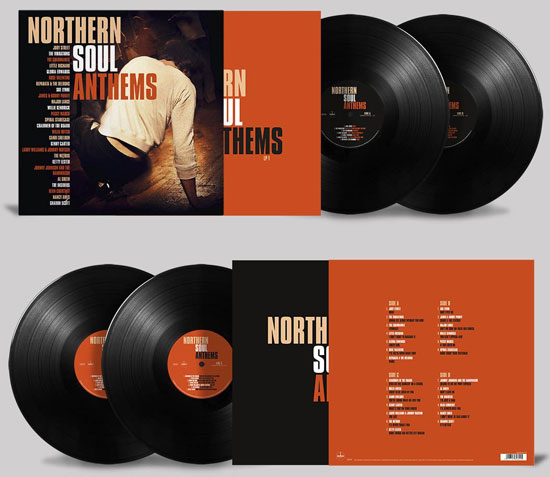 Not one for the crate diggers. But if you just want to dip your toe in the water, this Northern Soul Anthems vinyl might be for you.
Remember the Northern Soul Floorfillers collection a few months back? Well, I get the idea that this is a follow-up of sorts. It looks similar and the track selected are in a similar vein. So if that now worked for you, get on this.
As for the content, well it's called Northern Soul Anthems, so you get the idea. Big plays on the northern scene during its heyday, all of which can be found on two 180g heavyweight vinyl discs and a gatefold sleeve featuring original Photography from the 'Northern Soul' filmmaker Elaine Constantine.
The tracks are listed below and if you fancy this one, you can preorder it now ahead of the 13th April 2018 release date. The price is £16.99.
Find out more at the Amazon website
Tracks:
Disc: 1
1. Judy Street – What
2. The Vibrations – Gonna Get Along Without You Now
3. The Charmaines – Eternally
4. Little Richard – I Don't Want to Discuss It
5. Gloria Edwards – Lonely Girl
6. Rose Valentine – I've Gotta Know Right Now
7. Reparata & The Delrons – Panic
8. Sue Lynne – Don't Pity Me
9. James & Bobby Purify – Shake a Tail Feather
10. Major Lance – Ain't No Soul (In These Old Shoes)
11. Willie Kendrick – You Can't Bypass Love
12. Peggy March – If You Loved Me
13. Spiral Starecase – More Today Than Yesterday
Disc: 2
1. Chairmen Of The Board – (You Got Me) Danglin' On a String
2. Willie Hutch – Lucky to Be Loved by You
3. Sandi Sheldon – You're Gonna Make Me Love You
4. Kenny Carter – What's That On Your Finger
5. Larry Williams & Johnny Watson – Too Late
6. The Metros – I'll Never Forget You
7. Ketty Lester – Some Things Are Better Left Unsaid
8. Johnny Johnson And The Bandwagon – (Blame It) On The Pony Express
9. Al Green – Don't Leave Me
10. The Insiders – I'm Just A Man
11. Dean Courtney – I'll Always Need You
12. Nancy Ames – I Don't Want to Talk About It
13. Sharon Scott – It's Better