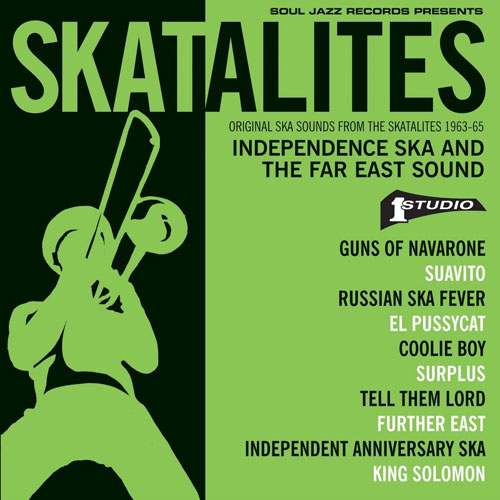 This was actually released as a 7-inch box once, but The Skatalites – Independence Ska and The Far East Sound 1963 – 65 (Soul Jazz) is now back as an extended collection.
Of course, you know that The Skatalites were the house band at Clement 'Sir Coxsone' Dodd's Studio One Records, but they also recorded 100s of their own tracks under various names, with this collection picking out some of the best.
From classics like 'Guns of Navarone', 'El Pussy Cat Ska', 'Christine Keeler' through to some serious rarities such as Dizzy Johnny and The Studio One Orchestra's 'Sudden Destruction' and Don Drummond's 'Coolie Boy', they're all here on a 20-track set, available either as a CD or as a double LP with download code, both with new extensive sleeve notes.
Track listing below and if you want it, the album is out now. CD is down for £14.32 and the LP is £20.99.
More about the CD at the Amazon website
More about the vinyl at the Amazon website
Tracks:
1. Guns Of Navarone
2. Christine Keeler
3. El Pussy Cat Ska
4. Dizzy Johnny and The Studio One Orchestra – Sudden Destruction
5. Roland Alphonso – Scambalena
6. The Wailers – Tell Them Lord
7. Don Drummond and The Skatalites – Russian Ska Fever
8. Roland Alphonso and The Skatalites – Independent Anniversary Ska (I Should Have Known Better)
9. Bongoman Byfield and The Skatalites – Marcus Garvey
10. Don Drummond and Roland Alphonso – Heaven and Earth
11. Bongoman Byfield and The Skatalites – Jack Ruby Is Bound To Die
12. Don Drummond and The Skatalites – Further East (aka Trolley Song)
13. Beardsman Ska
14. Don Drummond and The Skatalites – Surplus
15. Fidel Castro
16. Tommy McCook and The Skatalites – Suavito
17. Don Drummond and The Skatalites – Coolie Boy
18. Tommy McCook – Adam's Apple (Don't Bother Me No More)
19. Tommy McCook and The Skatalites – Full Dread
20. King Solomon
Save