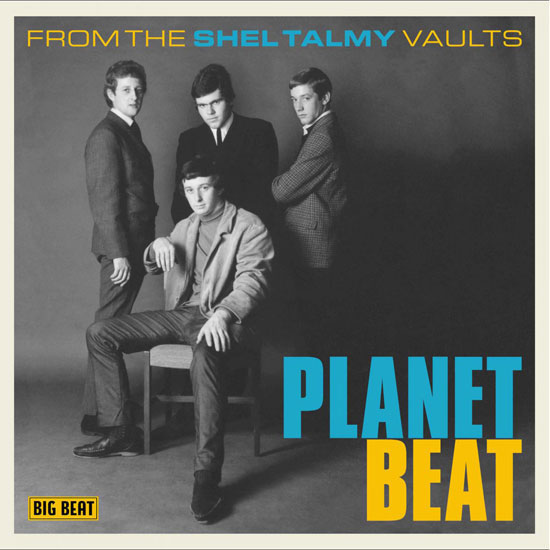 I'm guessing this is some kind of companion piece to the recent Planet Mod collection. Either way, Planet Beat – From The Shel Talmy Vaults is coming your way from Ace Records via Big Beat.
Here's the basis of Planet Beat. You know The Kinks and The Who and the sound Shel Talmy crated for them. But for every huge success there were plenty of failures too. Or 'underground classics' as Ace refers to them.
This new collection features a 'handpicked selection' from the beat and R&B recordings Talmy produced between 1964 and 1966. As Ace states…
By the time Talmy had struck out on his own as an independent in the spring of 1964, he had further honed his techniques. He established a relationship with a recording studio, IBC Sound in London's Portland Place, whose facilities delivered the sonics required, and focused on session musicians who could quickly deliver what some of the less disciplined players in the self-contained beat group environment were less able.
His personal picks soon devolved to Nicky Hopkins on piano, Bobby Graham on drums and Jimmy Page on guitar. The three are all over many of the tracks here, and in particular regard to Page, the compilation acts as an interesting and unique survey of his first major sojourn in the studio.
Planet Beat features Trekkas, Tribe and League Of Gentlemen, along with alternative versions of 'beat nuggets' such as the Breadcrumbs' 'Everybody Knows', Wayne Gibson's 'See You Later Alligator', and the First Gear's 'Leave My Kitten Alone'. Also in the mix are rare singles from the Dennisons, Lancastrians, Zephyrs and unreleased material from Liberators, Talismen, Presidents, Pathfinders and Johnny B Great.
If you like your '60s beat, Planet Beat might be worth checking out when it lands on 29th June 2018. You can pre-order it now on CD (no vinyl sadly) for £13.21. Tracks listed below.
Find out more at the Amazon website
Track listing:
1. My Baby Is Gone – The Untamed
2. Leave My Kitten Alone – The First Gear
3. Why – The Pathfinders
4. There's Something About You – The Zephyrs
5. Lucy (You Sure Did It This Time) – The Dennisons
6. Everybody Knows – Sean Buckley and The Breadcrumbs
7. Lonely Man – The Lancastrians
8. It's Superman – The Imp-Acts
9. She Said Yeah – The Presidents
10. See You Later Alligator – Wayne Gibson
11. I'm Leaving – The Tribe
12. Gotta Have You – The Liberators
13. Casting My Spell – The Talismen
14. How Do They Know – The League Of Gentlemen
15. Black Eyes – The Hearts
16. Our Love Is Gone – The Impac
17. What'd I Say – Johnny B Great & the Orchids
18. Please Go – The Trekkas
19. Was She Tall – The Lancastrians
20. Love Love Love – The Pathfinders
21. Talk to Me Baby – Rising Sons
22. The Children Take Over – The Untamed
23. Ding Dong! The Witch Is Dead – Wayne Gibson
24. Just Can't Keep a Good Man Down – The Talismen