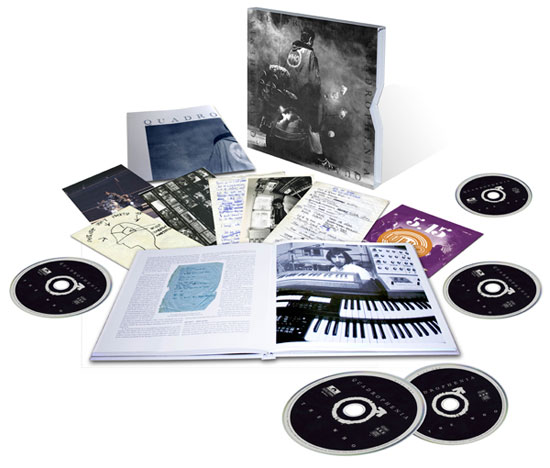 As you might already know, The Who are releasing the Quadrophenia Director's Cut box set, specifically in Monday November 14th. We knew the broad details a couple of weeks back, but now we know the full tracklistings.
As we mentioned before, you get a re-master of the original double album, Pete Townshend's previously unheard demos including songs that didn't make it onto the original album, an exclusive eight track 5.1 sound DVD, a deluxe hard-back book, previously unseen personal notes, photographs, memorabilia and 'other exclusive material'.
All of that is available to pre-order now at Amazon, but if you want to convince yourself even more, check out the full listing below.
Discs one and two – the original double album – 2011 remaster
Discs three and four – 25 unreleased demo tracks from Pete Townshend's studio archive
Disc five – 'The Quadrophenia 5.1 EP' – eight track DVD-A re-mixed for surround sound.
Deluxe 100-page, hard-back book featuring a brand new 13,000 word essay by Pete Townshend, shedding exclusive light on the period before and during the creation of the album, explaining some of the technical processes, as well as a revealing insight into the story of the album's central character – the mod Jimmy.
The book also features Pete's in depth, track-by-track guide to the demos and a revealing studio diary, along with a 'treasure trove' of previously unseen personal notes, photographs, handwritten lyrics and memorabilia from the period, all recently uncovered in Pete's archive.
The package also replicates the black and white imagery from the original vinyl LP photography and adds never-seen colour out-takes of the famous cover shot.
A replica 7-inch vinyl single featuring hit single '5.15' b/w 'Water' in a picture sleeve.
Set of six facsimile memorabilia 'inserts' housed in a card envelope.
20-inch x 30-inch poster.
All housed in a hard-back deluxe slip-case.
Tracklistings:
Original album – 2011 Remaster
Disc One:
1. I Am The Sea
2. The Real Me
3. Quadrophenia
4. Cut My Hair
5. The Punk And The Godfather
6. I'm One
7. The Dirty Jobs
8. Helpless Dancer
9. Is It In My Head?
10. I've Had Enough
Disc Two:
1. 5:15
2. Sea And Sand
3. Drowned
4. Bell Boy
5. Doctor Jimmy
6. The Rock
7. Love Reign O'er Me
Disc three – the demos
1. The Real Me (demo)
2. Quadrophenia – Four Overtures (demo)
3. Cut My Hair (demo)
4. Fill No. 1 – Get Out and Stay Out (demo)
5. Quadrophenic – Four Faces (demo)
6. We Close Tonight (demo)
7. You Came Back (demo)
8. Get Inside (demo)
9. Joker James (demo)
10. Punk (demo)
11. I'm One (demo)
12. Dirty Jobs (demo)
13. Helpless Dancer (demo)
Disc four – the demos
14. Is It In My Head (demo)
15. Any More (demo)
16. I've Had Enough (demo)
17. Fill No. 2 (demo)
18. Wizardry (demo)
19. Sea & Sand (demo)
20. Drowned (demo)
21. Is It Me (demo)
22. Bell Boy (demo)
23. Dr Jimmy (demo)
24. Finale-The Rock (demo)
25. Love Reign O'er Me (demo)
Disc five – DVD – 5.1 surround-sound mix
1. I Am The Sea
2. The Real Me
3. Quadrophenia
4. I've Had Enough
5. 5.15
6. Dr Jimmy
7. The Rock
8. Love Reign O'er Me
7inch single
Side one: 5.15
Side two: Water