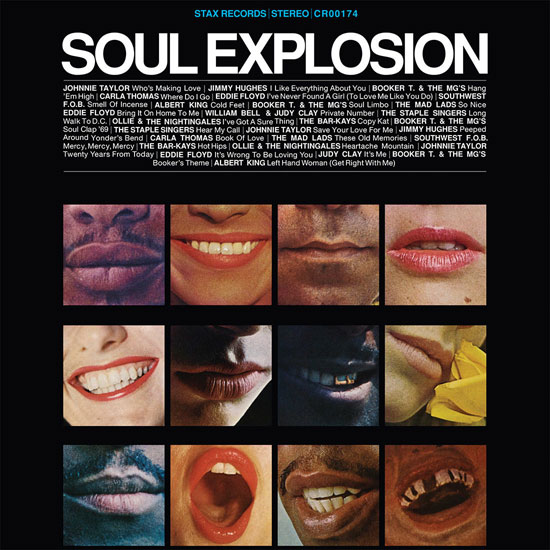 The Stax label is celebrating, not least with the Soul Explosion 50th anniversary vinyl reissue.
Yes, 50 years since this album, a defining hits collection from the Stax label, first appeared on the shelves. In fact, it was the only time it appeared on the shelves as Soul Explosion has never been reissued until now.
It returns as a 2-LP collection in a double gatefold sleeve, featuring many of the songs that defined the label. Yes, you might well have a good number (if not all) already in your collection. But you might still want this collection amongst it.
The tracks on the vinyl reissue are below and if you want to pre-order it, the album doesn't come cheap at £33.86.
Find out more at the Amazon website
Side A
Johnnie Taylor "Who's Making Love"
Jimmy Hughes "Like Everything About You"
Booker T. & The MG's "Hang 'Em High"
Carla Thomas "Where Do I Go"
Eddie Floyd "I've Never Found A Girl (To Love Me Like You Do)"
Southwest F.O.B. "Smell Of Incense"
Albert King "Cold Feet"
Side B
Booker T. & The MG's "Soul Limbo"
The Mad Lads "So Nice"
Eddie Floyd "Bring It On Home To Me"
William Bell & Judy Clay "Private Number"
The Staple Singers "Long Walk To D.C."
Ollie & The Nightingales "I've Got A Sure Thing"
The Bar-Kays "Copy Kat"
Side C
Booker T. & The MG's "Soul Clap '69"
The Staple Singers "Hear My Call"
Johnnie Taylor "Save Your Love For Me"
Jimmy Hughes "Peeped Around Yonder's Bend"
Carla Thomas "Book Of Love"
The Mad Lads "These Old Memories"
Southwest F.O.B. "Mercy, Mercy, Mercy"
Side D
The Bar-Kays "Hot Hips"
Ollie & The Nightingales "Heartache Mountain"
Johnnie Taylor "Twenty Years From Today"
Eddie Floyd "It's Wrong To Be Loving You"
Judy Clay "It's Me"
Booker T. & The MG's "Booker's Theme"
Albert King "Left Hand Woman (Get Right With Me)"