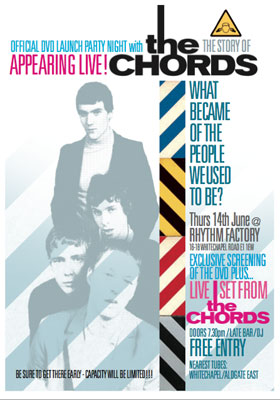 Thanks to Dave Edwards for flagging this up, The Chords DVD launch at The Rhythm Factory, London, which takes place this Thursday, 14th June.
As the title indicates, this is a DVD launch, taking place at The Rhythm Factory on Whitechapel Road, Aldgate, London. The DVD features interviews with the band members and fans, live footage and all known TV appearances, should you fancy a copy.
If you want to head down the event, Dave Edwards and Paul Hallam are DJing, plus there's a screening of the film and a live set from the band with 2nd vocalist Kip Herring.
It's free entry, everything starting from 7.30pm and running until late. More info on the event here. Not sure where or when you can buy the DVD – nothing seems to be listed on Amazon.