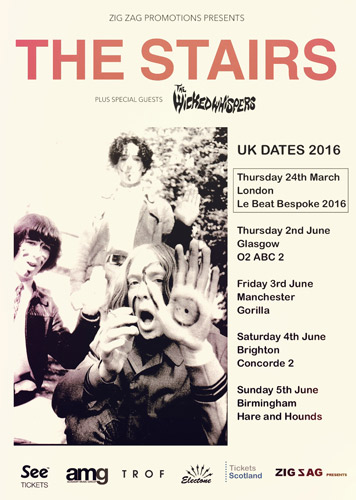 The Stairs are back – and they are back on tour too.
The Liverpool-based, 1960s-inspired trio didn't release a lot of music when they were together originally – just one album and a few singles – but their influence was huge back in the early 90s. Enough to make this reunion a pretty big thing. So if you like the idea of hearing their distinctive mix of garage, psych and R&B live, read on.
The tour is brief and includes an appearance at Le Beat Bespoke (see the events section for details of that). If you can't make it there, you can always check out the other gigs, which are listed below. Support is from the excellent Wicked Whispers and a new single will follow in June on Election Records.
All good news. Keep up with them on Twitter here.
The Stairs Tour Dates:
Thursday 24th March – Le Beat Bespoke London
Thursday 2nd June – O2 ABC Glasgow
Friday 3rd June – Gorilla Manchester
Saturday 4th June – Concorde 2 Brighton
Sunday 5th June – Hare and Hounds Birmingham