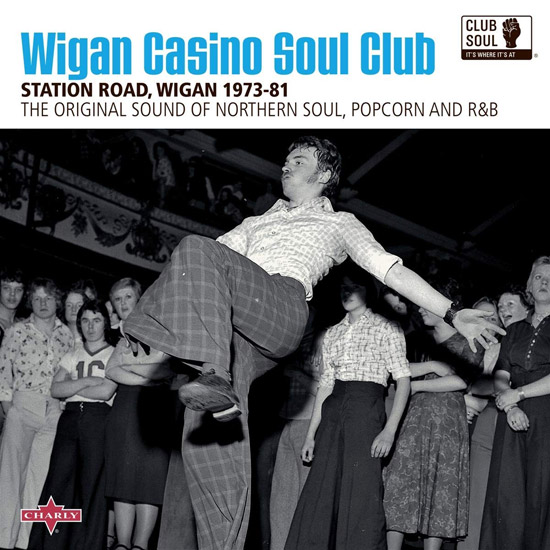 If you have room for another Wigan Casino compilation in your life, here's one. The Wigan Casino Soul Club on vinyl.
A new album but a variation on an old compilation. Presented on 180g heavyweight audiophile vinyl, this is reworking of a previous release by Charly on CD, but with exclusive songs not on that edition (should you happen to own it).
As for what is here, that's tracks from there Wigan playlist from the likes of The Ringleaders, The Jerms, Ohio Players, Blanch Carter, The Inspirations, The Young Savages, Little Richie, Maurice Williams, Ron Holden, The Combinations, The C.O.D.'s and more. All newly remastered from the original master tapes and rare vinyl.
The track listing is below and the album, complete with sleevenotes, has just been released. You can pick up a copy for £22.15.
Find out more at the Amazon website
Side one:
1. Clarence Murray "Let's Get On With It"
2. The Appreciations "I Can't Hide It"
3. The Ringleaders "Baby, What Has Happened To Our Love"
4. The Jerms "I'm A Teardrop"
5. The Ohio Players "Love Slipped Thru My Fingers"
6. Blanch Carter "Halos Are For Angels"
7. Little Johnny Blair "Momma's Gone"
8. Skull Snaps "I'm Your Pimp"
Side two:
1. The Inspiration "Your Wish Is My Command"
2. The Young Savages "(Shake Me) Can I Be Dreamin' ?"
3. Little Richie "Just Another Heartache"
4. Maurice Williams & The Zodiacs "Being Without You"
5. Ron Holden "I'll Forgive And Forget"
6. Johnny Dynamite "The Night The Angels Cried"
7. The Combinations "What'cha Gomnna Do ?"
8. The C.O.D's "She's Fire"