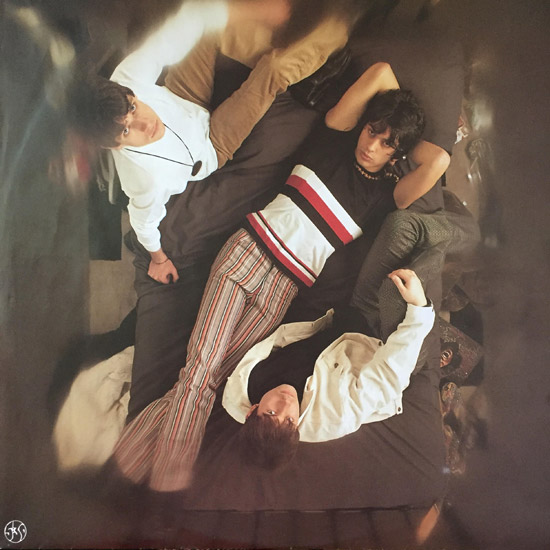 Note that I independently write and research everything in this article. But it may contain affiliate links.
From the mod circuit to more overground success, band break and eventual solo career. Mark Raison talks to Tara Milton of Five Thirty.
'Five Thirty are a blissed out, centrifuged guitar pop trio. Every song, and they've got more than they know what to do with, rushes at you with hot, sweaty, power.' Sounds, 1990.
In Brett Anderson's recent memoir, Coal Black Mornings, he writes how a fledging Suede attended gigs at the University of London Union to watch 'now forgotten, marginal bands like Five Thirty' and 'drench ourselves in the giddy world of dry ice and the squeal of feedback, the press of bodies and the thrill of noise'.
One can debate the contradiction of recalling something now forgotten, bristle at Brett's use of marginal, but his description of Five Thirty as they exploded onto the live music scene in 1990 is on the money. Placing them at the ULU is significant too as it was there during a Friday afternoon showcase organised by their friend Jon Leslie-Smith, a member of the student union, the band lit the fuse for a record company bidding war. Gary Crowley, then doing A&R for Island, recently said he thought all his Christmases and birthdays had come at once due to the band ]sounding
like a cross between The Jam and The Stones Roses'.
Island eventually lost out to East-West and during the following 18 months Tara Milton (vocals/bass), Paul Bassett (vocals/guitar) and Phil Hopper (drums/vocals) released five singles (most consider them EPs as the three or four tracks on every 12 inch were essential), an album and played a continuous string of electrifying live shows. A formidable and versatile act, blessed with two gifted songwriters in Tara and Paul, they then shot themselves in the foot by carelessly losing drummer Phil, then hobbled along for the best part of a stuttering and mostly silent year before being quietly to put to sleep.
It was a strange end; a band whose star burned so brightly, fading away, almost unnoticed. Five years before 'Abstain', then as The 5:30!, they were a second-tier Mod band. Young and inexperienced they played on a few Mod bills, most notably Clacton Mod Rally and the Mod-Aid Alldayer in Walthamstow and released their 'Catcher In The Rye' EP. Few would have predicted of all the Mod bands knocking around in '85 it would be they who'd subsequently achieve a degree of commercial success and create a collection of recordings that still hold up today. No band has made an album I've listened to as often as Bed.
Only Tara Milton remained from that early Mod incarnation but it's important to note here Tara's schoolfriend Chris Drew, who tirelessly championed his mates from the start, sending off introductory articles to the network of often unforgiving Modzines and ran the grandly named 5:30 Information Service. Chris remained a constant in the band for the rest of his life: designing record sleeves, logos, backdrops, painting guitars and being a creative confidant.
Fast forward to 2018 and Tara Milton – baker boy cap jauntily placed, vintage Adidas, old Jam badge on his lapel – is sat opposite me in a pub down the road from the Small Faces' former home in Pimlico talking about releasing his debut solo album, Serpentine Waltz, on Steve Marriott's birthday.
It's a wonderful record that is quite rightly receiving across-the-board rave reviews. Cinematic, literate, disconcerting; a series of vignettes from the darkest corners of city life. After discussing the record (see piece in Shindig magazine) we turned our attention to Five Thirty.
What follows is an in-depth look at the band; grab a cuppa and a biscuit, make time for it. Enormous thanks to Tara for his patience at my probing – I can't lie, I was borderline obsessed with Five Thirty, traipsing around the country nearly 25 times, cutting out every mention I'd find the music press – and his thoughtfulness and candidness in his replies. It sometimes felt these were memories that had lay dormant until I came poking around but it's a story that hasn't been told before. Enjoy.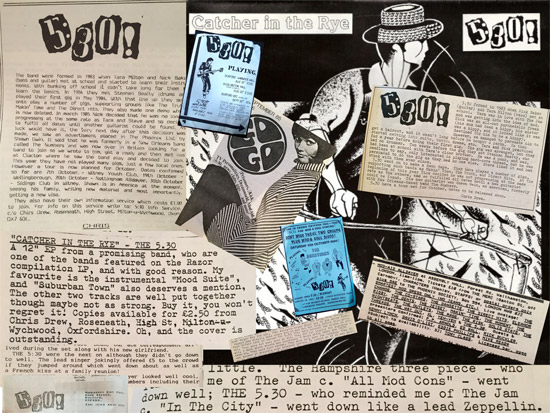 October 1985: Catcher In The Rye EP released.
'The 5:30 have both talent and the desire for a bright future.' The Phoenix List Mod Newsletter
'A rather dreary number. The lyrics are extremely pessimistic though there does seem to be some complex song-writing ability lurking underneath' – Go-Go fanzine
The original band formed in Oxford. You did well to get a record out so early, tell us about that.
I was 16 or 17, we'd been going since school in a very shaky way. It was that old punk DIY thing. The only thing is, to be a Mod band you had to be quite good on your instrument and we hadn't really got the craft down at all, so we sounded like a ropey indie band or something. A guy came over from America, Shawn Gwin, he'd been in an American Mod band called the Numbers. He was a bit older, 21, and we met him when we played a show at Clacton Mod Rally. He brought his songs in and upped the level of musicianship. Only stayed six months before he went back, didn't say goodbye or anything, but we recorded the Catcher In The Rye EP.
How did it feel to be 17 and getting your first record out?
I loved the experience of the recording and listening back to the playback. I thought 'Weight of The World' and the lead track were quite nice sounding recordings at the time. But I detested the cover. I wanted the classic Mod cover and it was a catcher in the rye. It looked a country record or something. So that was horribly disappointing.
How did Paul Bassett appear on the scene?
He was at my school, two years above. We were always enemies at school. He was real David Watts kind of figure at school, captain of the cricket team. We were in the same [school] house and he picked me for the cricket team, We went out to field and the empire's like 'You've got twelve people on the outfield' to Paul. Paul looks at me and 'Tara, you're off'. So I had to do the walk of shame in front of the whole school. I think I kind of never let that go. (Laughs).
Paul was a boarder at school, we had a small boarding section, and walking past the back of the building one day I heard someone playing the guitar. It sounded great. Like he had an old soul, playing the blues. I don't know where he got that from. Five Thirty was up and running and did a few school jams. He would come with his band, The Review, another mod band. They were really good. Paul had that Wilko Johnson thing and because he'd listened to a lot of blues and Hendrix and stuff, they were really strong. Paul was a precocious talent from the beginning. Later, my brother Justin, unbeknown to me, sent the record to Paul and wrote asking him to join the band.
What did you think about that?
I'd always secretly fantasied about him joining the band. He was also in a funk band in Reading, that was his number one thing, called Chocolate Starfish. I thought I've just got to be good and support him as much as possible, flatter him as much as possible, and hope that he stays with it.
Did you two hit it off at that point?
Hmm, we had a certain… Paul and I never really hit it off… There was always an aggression between us. But there was a brotherly kind of aggression I think. There was a closeness otherwise we wouldn't have been able to do what we did.
We did the pubs and clubs for a couple of years and then I said to Paul I was going to make the move to London to try and try to pursue it seriously and was he up for it. Luckily, he was and we moved into a shared room in Charlotte Street, on top of an office furniture shop.
There was a local drummer who joined briefly – Keith who ended up in Orange Deluxe – but he left. We didn't gel at all musically. He played right on the beat, you couldn't dance to it at all. And then Phil [Hopper] moved in below. He was 26 at the time, I was 21 or something.
I've read it took a lot of effort for Phil to get his drum skills up to speed.
Yes, it did. We did half a dozen or so haphazard gigs, he could barely play. He could make a noise but for me, already, it was better than how I felt with Keith. He just had that special component. He had feel. It was just a case of playing him in. It took a lot of work. About a year. Saying that, I wasn't a great player either, I had to work as well. I had no special talent, other than the will.
How did you get the record company interest? What triggered that?
We recorded a few demos with Keith which attracted interest from EMI publishing. Of course the personal had changed so the sound they were hearing was a sound we weren't able to reproduce. I don't know if the demos exist, and I've maybe roughed Keith up a little, but on that particular demo the band performed really well on those songs – Paul's songs.
So Steve Walters at EMI Publishing invited us in and was into it and said come back in six months with some new songs and we'll talk about studio time or something. And the last thing he said to me was something like "Go away and write something that's just not so pedestrian". With that in my mind, "pedestrian", I went away and wrote 'Abstain' with the line "I left my heart on the pavement for pedestrians like you".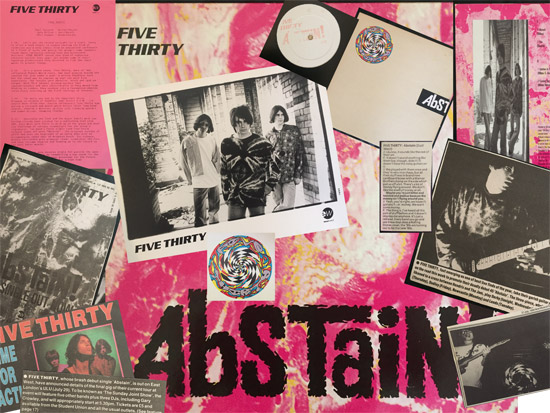 July 1990: Abstain released (chart position 75)
"A quality first record that matches provocative lyrics with a raucously poppy barrage of guitar melody. It's the type of record that sneers in the right places, and still gives you a massive jump start of energy." NME
"From the title track's joyous, crashing intro, through the gorgeous melodies of 'You' and the wah-wah-funk fusion 'Catcher In The Rye' to the shuddering climax of 'Coming Up For Air', this is vinyl history in the making." Sounds
'Abstain' was some way to announce your arrival.
It's always been overrated that song but it did the job, opened doors. Overrated is harsh, I think it was a strong pop song and lyrically unique. The "shit on your tongue" line is pretty lousy, it lets the song down really. If I sing it now I sing "you shoot off your tongue" it's not quite so unappetising. Abstain from what? All the shit that stops you growing and fulfilling your human potential. I really wanted to record a song that gave the listener that feeling of invincibility. The way I used to feel after listening to The Jam when I was a kid. I don't think the recording quite captured the true power of the song. But it seemed to touch people.
I always thought the comparisons to The Jam were lazy. There were only two or three songs that sounded a bit like them. Did you see yourselves like that? I think we'd investigated a lot of the American soul and blues music and in our own little way we tried to channel it back into what we were doing. The Jam at that time, their name wasn't revered. A lot of journalists around then just really condescended to them.
What made you go with East-West? What did they offer that sounded attractive?
Well, what they offer and the reality of what was being offered, as we learnt, were two different things really. They offered us pretty much last say on every creative decision. But little did we know that they called the shots, pulled the strings.
Straight from the beginning there seemed a resentment from some quarters you'd signed to a major rather than indie label. Did you feel snobbery towards you?
Definitely from some contemporary bands. We did a show with Carter The Unstoppable Sex Machine and they tried to rip our backdrop down and stuff and shouting about our shiny new guitars and stuff but they were just posh little kids anyway, even if they were in their 30s, I couldn't take them seriously.
We did what we did, no time for regrets. I think it's a valid point that we should have built things up more slowly, been more patient, but we were daft really. We had a good following.
We had twenty or thirty thousand people out there who liked the band, we could've built gradually on that. Twenty thousand people is enough people in this country to sustain the band and we could've made the records we wanted. I think Fire were very interested in the band. Spacemen 3's label. They wrote us a very long letter saying don't go with the majors, come with us. It was a real concerned, loving letter and probably that would've been the best move for us.
Everything was going so fast then and we were competitive wanting to make it, we should've just put all that aside and concentrating on an agenda to make a really good album this year, tour it, then make another the year after that, and carry on like that making good records and as long as we've got a roof over our heads and doing the thing we love, then you can't argue with that can you? That's probably how I'd view it from this end of the game.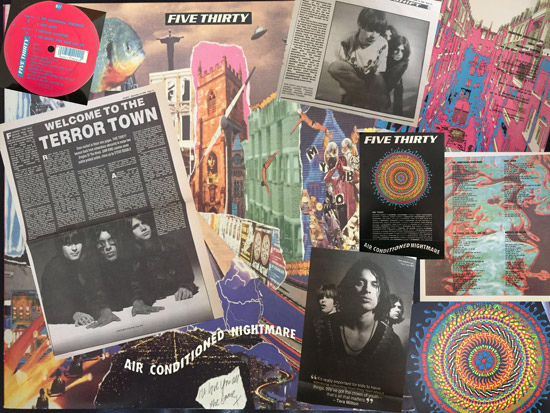 November 1990: Air Conditioned Nightmare released (chart position 100)
"Boasts everything that has taken the band from the obscurity of earning five quid a day selling sandwiches to their current position. Musically, it's more in keeping with The Jam or The Who than anything Five Thirty have done an its ferocity conceals a highly charged politically-oriented lyric." Sounds
Relationship with the label deteriorated with the second single, 'Air Conditioned Nightmare' which appeared with minimum publicity and no video. Why?
They were very insistent about the second single. The one they wanted to break was going to be '13th Disciple' and to me it seemed a little odd going from 'Abstain' to '13th Disciple'. Sounded like two different bands almost. I thought maybe we should have a couple more guitar type ones rather than go do the dance route so readily.
By the time '13th Disciple' came out it already felt like that ship had sailed. A year earlier the indie dance/baggy thing would've worked better. Sorry to side with the record company.
Yeah, yeah, totally. You're right, with hindsight. They were really pissed off, because we wanted 'Air-Conditioned Nightmare'. We were rehearsing in a little cottage for our album and the A&R people came down and told us. "Look, it's got to be '13th Disciple', we'll give you all the backing that you want, we will really get behind this, everyone wants this. The big boys at the label really want this." But we went for 'Air-Conditioned Nightmare' because it was stated in the contract it was our say.
What we didn't realise was they didn't have to put anything behind it, there was just an obligation to do the release on a very minimal level, so they didn't prioritise it at all. It was really stupid.
Weren't they almost cutting their nose to spite their face?
They explained the options from their point of view, regarding '13 th Disciple' and I don't blame them, that's the way record companies operate. They can't get behind something the whole company doesn't believe in just because the band likes it. We really didn't know how to operate. We really needed someone with a wiser head on their shoulders to take us to one side and tell us to pipe down, you're in a good position here, don't fuck it up, don't get carried away, just go with it. We didn't have that for some reason. We were let down by maybe our own immaturity and management that should've been there.
May 1991: 13th Disciple released (chart position number 67)
"'13th Disciple' is the world's first piece of genuine rare-groove-psychedelia, an excellent invention despite Tara referring to it as 'the indie-dance crossover song." NME
"'13th Disciple' is precisely eight seconds old when I decide that it possesses the shakiest, most infectious bass intro since 'Groove Is In The Heart'. And Christ on a bike, funk me rigid if it doesn't have the audacity to actually get better!" Melody Maker
When the Manics came out in 1990 they used you as a reference point in the opening line of their first music press interview. "We are the scum factor of the Mondays meets the guitar overload of Five Thirty/Ride while killing Birdland with politics'. The pair of you were neck-and-neck for a while. What did you think of them?
Good little band. I thought they hated everyone. I think I said something quite nasty about them.
You said in the NME "The Janet Street Welchers are barking up our tree. Their trousers are too tight for their fat legs".
Yeah, I'll tell you why I said that. I think it was in their very first feature they said something about fat people shouldn't be in bands and I thought I'd turn that around and float that back at them because I'm not a bully kind of guy. I mean, it's lovely to see a great aesthetically pleasing band but look at Pixies; Black Francis is a fat bastard and he blew my mind, almost on a par with Henry Miller and The Jam, seeing the Pixies. So, they were dishing it out to everyone so let's just float a little bit back their way.
And I don't know why but I always felt partially responsible for Richey's anorexia. I don't know but sometimes a little comment can really gain traction especially when it come written. They said Lennon really lost it when someone said he was the fat one in the Beatles. I always wondered if that might have done his head in a bit.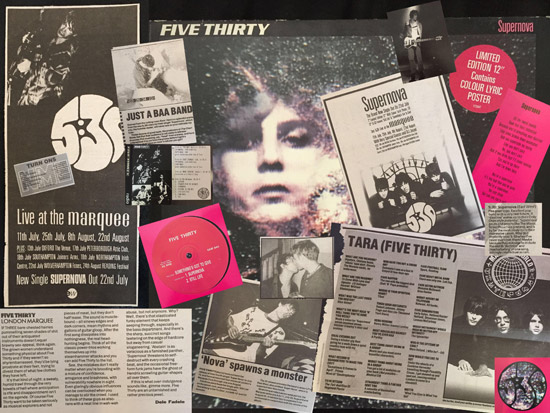 July 1991: Supernova released (chart position 75)
"Excellent pop band with a very real future, if only 'daytime' wakes up to their Only Ones-style potential. 'Supernova' preens like the Manic Street Preachers pretend, and is by far the most-likely-to in their impressive cannon." NME
When the company came down to the studio to check the progress of the album, they heard some single potential in it, but suggested Paul might have a go at singing lead vocals. Maybe it could have worked out better? But I was too stubborn to let Paul sing it. Although I think my voice was better for the song, admittedly I've never been very happy with my vocal. I was inexperienced in the studio at the time, it takes a while to learn how to sing with headphones on etc.
Alan McGee came on board as manager. Creation was struggling at the time so anyway he could siphon something off a major label back into his own was a suitable bridge for him. He loved 'Supernova', was always on about it and pushed hard for its single release. I do wonder if he may have played it to Noel Gallagher at some point? 'Champagne Supernova' and 'you're a Supernova' was it a coincidence? I'd be interested to know, not because I'd file a law suit or anything, but he could buy me a glass of champagne at least! The video is painful to watch. E-d out of my head – we all were – frolicking around on a bed with a bunch of nubile girls. I was so off my face I didn't even notice they'd edited the middle section of the song.
Chris Drew designed the sleeve. I can't remember whose idea it was to use the Syd Barrett image? Probably mine. Lyrically I was trying to take a look at myself through the eyes of my then partner. How I'd changed since I got a big record deal and a lot of attention, how my ego was running out of control, 'you may be on the verge of stardom, but the person I fell for has gone' That kind of vibe.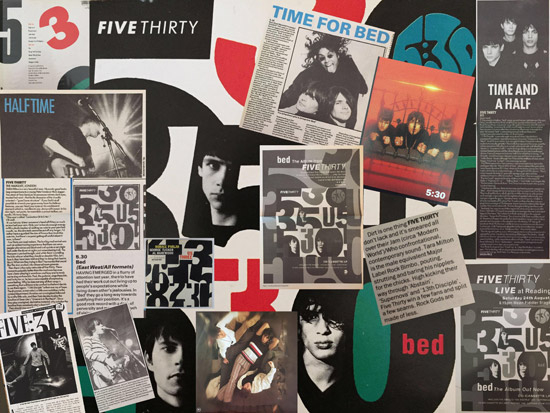 August 1991 Bed released (chart position 57)
"We are dealing with an obscene level of talent, an outrageous excess of potential energy." Melody Maker
"Contrary to its title, Bed has clearly been invested with all the energy Five Thirty could muster. Only the most hard-faced sceptic could fail to be seduced." Vox
The record is a combination of everything we'd ever enjoyed listening to and reading, I feel that the record worked because it had our own unique stamp. And even though we were in the clinical environment of the studio and think we managed to keep it quite spontaneous and live. We choose a few tracks like 'Automatons' to have some fun with and put multiple layers of noise and instruments down but then we would keep other tracks like 'Songs and Paintings' pretty much stripped down to the three of us playing live.
I can still listen to the record now, and I think it still creates a unique atmosphere in its own right, which is something all my favourite albums do. It's hard to verbalise exactly, probably more of an existential thing, like it's got its own individual sound scape in the head. I wish we'd put 'Somethings Got to Give' on it too. Don't know why we didn't.
Bed ticks all the boxes for me, it's a very progressive record but not self-indulgent, it has variety but is authentic, I can't compare it to any of our contemporaries because I really think no one from the Britpop era surpassed that record.
The sleeve reworked Horace Parlan's Blue Note LP, Us Three. Was that something you were into at the time?
The Bed cover was very disappointing. The guys doing the cover bought us in a bunch of reference points. Like a lot of people in that world they were very good at assimilating other people's good ideas and passing them off. It was a bit of a rush, we got it a bit wrong with that. I quite like the inside.
Yeah, it's a brilliant photo of the three of you on the bed.
Then lo and behold Tracey Emin does an installation called My Bed ten years later and gets a Nobel Prize or something (shortlisted for the Turner Prize in 1999 – Arts Ed.) Basically, she's just done the same. We did some good covers and Chris Drew had some work in progress – he presented some very nice options, although at the time they didn't make sense to me – it was only looking back at them ten years later I realised it was a brilliant piece of art work and wished we'd used it rather than the rubbish we used.
I didn't like it either and shall I tell you one thing that really annoys me about it? My photo.
Yeah! It's different to Paul and Phil's. Different session and quality. Looks wrong.
That was partly due to my stupid headspace at the time. The one they had of me I didn't like and I'd been in a magazine recently and I'd liked that. Really, I just needed a good talking to, as they say. There was no one there to do that really and I became more and more like a crazy Roman Caligula or something. Got carried away.
October 1991: You released (chart position 72)
"Immediately enticing intro – crystalline guitar, a soaring blaze of blissed out Beatle-ish harmonies. The voices come together and trip over one another in a tale of libido/infatuation denied. An adrenalin rush that doesn't let up. The guitar becomes a licking viper and a slashing blade and the whole thing rages to a glorious feedback burnout. Ignore at your peril." NME
"And 'Cuddly Drug', the flip, is nothing short of sensational – imagine Scritti's Green singing a Marc Bolan anthem produced by Giorgio Moroder with 'Move On Up' guitars and 'Going Underground' bass. Estimated chart position: 17." Melody Maker
Why did 'You' come out three times? First a B-side, then album track, then single.
So stupid. It wasn't the band's decision. By that time we'd been whipped about a little bit and at points when the band should've really made a stand, like on something like that, you've kind of lost your fight because of the battles that have gone before. I couldn't be bothered to fight against that. I understood why people would feel disappointed. It was just releasing something for the sake of it.
One of the reasons I saw you so many times was I couldn't envisage the band, with two very different frontmen singing their own songs, surviving long. How did you decide whose songs were going in the set, going to be singles etc?
I think Paul was the one that ended up having to make the compromises, bearing in mind he was a few years older than me and I'd always been subservient to him then got to that stage in life where I was finding myself and begin to get confident and assertive as well. I guess he was quite happy to take a step back and let me do that, probably, with hindsight. To tell the truth I think Paul was losing it as a songwriter. I'd been a great fan of his song writing right back from The Review days, the school bands, we recorded countless demos after we'd moved to London.
I was the one that he would listen to if I said the song wasn't working for one reason or another. He went through phases of writing mediocre songs and he's not really recorded anything of any value since. I don't know what happened to his song writing. I guess some people are great when they've got the youthful energy and others progress and arrive later, there's no telling. We had a bunch of material written for the second album. I'm sure we could've made a really good second record.
The demos for the second album, Another Fresh Corpse, that were finally released in 2013 sound great plus 'Raw Youth' and 'Maybe Next Summer' which haven't been released. Most of those were your songs.
There was a whole bunch of stuff. There was a nice demo recorded called 'Organic Orange'. We were in the process of defining what sort of album we wanted to make. I think we wanted a strong element of pop music in there but also ethereal guitar music.
There was mention after 'You' of an Aleister Crowley's Door EP that never appeared.
The Aleister Crowley's Door EP in my mind was going to be the record that broke us. Firstly, we wanted to give something back to the fans who had just had 'You' forced upon them for the third time; so we were going to have four brand new tracks, each one a corker. The tracks were going to be 'She's Got It Bad', 'Barbie Ferrari', 'A Song Of No Intention' and I think the fourth was 'When I'm Stoned'. We'd met up with Jimmy Miller and Tony Visconti who were both up for producing. I was very keen on working with Tony Visconti. One of my biggest regrets not making that record. Chris had already got some cool ideas for the sleeve; the door cut into a thousand fragments and being blown through some portal. The demos were coming along nicely. Who knows, it taught me there are no guarantees, there is no security in life really, and that is my only security.
You had Aleister Crowley's door on stage for quite a few gigs. Where did that come from?
The door came from this hippy that lived below me at Agar Grove in Camden. He and his friend had been demolishing Crowley's old place in Gower Street. They left the door opposite my room and when he moved he left the door. It always had a kind of ominous presence, so I threw it into next door's abandoned garden when I moved out and one day when we were driving past again I said "let's get that door and put it on stage". It ended up coming to America with us.
And it brought you lots of bad luck!
Yeah, I did. But was it the door? Who knows. But it achieved what it was supposed to. We sent it down the Thames, we kind of made a funeral pyre out of it and drifted it down the Thames at Hampton Court. Things had gotten pretty dark by then. My friend Chris Drew had committed suicide. He'd been living in Hampton Court and had done a lot of work with the door.
This was when Five Thirty were still in existence, when Chris died?
Yeah. We'd toured America, he came out to visit us when we toured America and the idea was he was going to hitch across and we were going to meet in New York. He ended up staying there for about four months then he came back and went on a very personal journey which I still struggle to comprehend really. He started fasting then doing drugs – he'd done some psychedelic mushrooms but nothing, you know, the odd spliff – he did a lot of fasting and had lost all of his body weight and I just remember having these endless conversations with him talking about what his problem was but I was never any the wiser at the end of it.
He was just lost in a labyrinth of his own head. And then threw himself off Chelsea Bridge. It was a terrible, terrible time and the end of the band, even though we went on for a while. I'd known him since I was 12 years old, he was a very, very important person in my life.
What happened to Phil?
Phil left in America. That was a big turning point. The band never really recovered after that. We didn't appreciate his talent until he'd left and also he was very important vocally. He'd been a choirboy and managed to retain his falsetto, don't ask me how. He had natural flair for harmony in the studio and he was a bloody good drummer. Between Paul and I there was always a bit of animosity, but Phil was a very passive character, sensitive guy.
We were in America, it was new territory, and everyone was also like starting again and everyone wanted to be as good as they possibly could but we'd done a few ropey shows and I think I'd shouted at Phil for dropping a beat or something and he said he was leaving. Instead of stopping him, and working it out, in my ambition I thought "Oh that's fine, we can find a John Bonham and go on to be the biggest band in the world" but I should've taken the approach the Beatles did when Ringo was leaving and decorated his room with flowers. That's the difference. They had that humility which I've had to learn.
We auditioned, and we auditioned. It's so hard to find a drummer. We had this tour of Japan coming up and we settled for Jez but I didn't click with him and vice-versa. He came from a completely different background from me. A different sort of person and background and just played a one volume. It was a bit of grind getting that tour ready for Tokyo. He went on to Swervedriver after that. And Phil, went off, originally intending to go in to the theatre as an actor but that didn't really work out for him and he went off to Japan.
What finally caused the end of Five Thirty?
You had Phil splitting from the band in October '91, Chris doing his deed in April, then we touring Japan in May '92, then got another new drummer in – Keith, whose drumming I hated back in the beginning – and did an appalling show at the Camden Palace. I wasn't in a good place in my head and didn't feel like I was performing in real time. I remember we drove past the venue the night before and the building opposite was ablaze, completely, and thought "that's an omen" and lo and behold that was the last gig.
We had some nice shows lined up too including a headline at the Astoria which was my favourite ever venue that I never even played. We had one fight too many for Paul in the rehearsal room. Me sort of doing karate kicks at his head. Well, just past the ear. We'd been in many fights and didn't see how that was going to be any different but we now had Keith and a new caretaker manager. When we went out on tour there was the boys own section – the spliffers and all of that – then there was me, on my own mainly. And they ran with it. Took all the infrastructure of Five Thirty and before I could say boo to a goose they – Orange Deluxe – were playing the Garage with the band's gear, that's how it was. I went back to Oxford to regroup.
Started off with the Supergrass boys, they were playing in The Jennifers. I'd seen the Jennifers a few times and actually suggested to Paul they had a drummer maybe worth trying. The Jennifers spilt up to maybe come in a band with me but it was one of those runaround moments, trying to find your comfortable location to build off. But I wanted to do something a bit more radical. They of course went on to make a really smart first album.
How were your next band, the Nubiles, received after Five Thirty?
In Oxford very well but outside a few key towns people didn't really like the look of them. Even though there hadn't really been a Mod scene, they weren't having that lot; like they'd been roped in from a bus stop. Was a good band but the album, Mindblender, turned out to be a long protracted affair. It was really exciting in the early stages, we really should have made an album in the first six months. Again, the cover was rubbish and I didn't like the title at all. Some good moments.
Looking back at Five Thirty how do feel when people frequently say you were ahead of your time and should've been massive?
I try not to dwell on it. But there's a lot of hours in the day and sometimes it's hard not to. It saddens me the band didn't go on to reach its full potential and it saddens me that I was mainly responsible for its self-destruction. I just lacked the maturity and wisdom to deal with the predicament and was crying out for guidance but there was no one there to really connect with. After our friend Chris' suicide, it was just a nightmare. Something that should have been so positive that had been so much fun was now in such a dark place and I felt utterly lost and probably took it out on anyone around me.
But I do wish we'd ridden that storm, I think we would have offered the whole Britpop scene an entirely unique perspective. I think we would have been a force to be reckoned with. And who knows maybe I wouldn't have to be driving a double decker bus to pay the bills these days? But then equally, it could have gone the other way, I could have also been another rock star martyr, an image to sell merchandise like Richey from the Manics. Such an intelligent guy sacrificed at the bullshit rock star altar.
There seems a lot of regrets and disappointment with how things went, and obviously it was a tough period towards the end, but I'm assuming there must've been times when it was great?
Even during the last twelve months of the band there were some good times, although Phil's departure and Chris's suicide had completely changed the group dynamic and we could never find the same chemistry. But for the previous years before that, being in band gave me the kind of fulfilment in life that I've never come close to attaining since. That's not to say I didn't sometimes get this paralysing depression, which was all the more difficult to deal with as I was now doing the very thing I'd always dreamt of.
Making Bed was one such example, we went to a residential studio just outside Wrexham, I remember having bouts of depression and anxiety. I soon realised I shouldn't smoke pot in the studio because that would definitely make it worse. I think the anxiety also arose from the realisation that this wasn't a dream anymore. Here we were, the three of us in the studio and it was our turn now, for years and years we'd listened to all our favourite records and artists and now it was our turn to attempt recording a record to move a new generation of listeners in the same way our heroes had done to us.
My favourite aspect was the touring side, the thing that most bands have a problem with. I think it's my gypsy blood, I just love to be in a different town or city every few days, and I love staring out the window on long drives, listening to music and letting my imagination run wild, then meeting the kids from the different towns and cities. How many people get to do that? Every single show we did I felt like we played as though our lives depending upon it. I guess I had the remnants of my memories of seeing The Jam in my head and that was the really the main reference point I had in my head, recalling the electricity of Jam shows.
Just for a few years, and a year is a long time at that age, I couldn't ask for a better life; like I said before, there was a fulfilment there, I felt like I was fully human, growing on all levels, I'm grateful for what we did.
Interview by Mark Raison
Serpentine Waltz is out now and available from taramilton.co.uk
Love Modculture? If you enjoy what you read or have benefitted from it and want to
help with the ever-increasing costs of the site and newsletter
, you can always
buy me a coffee at Ko-Fi
. Every penny is helpful and appreciated.