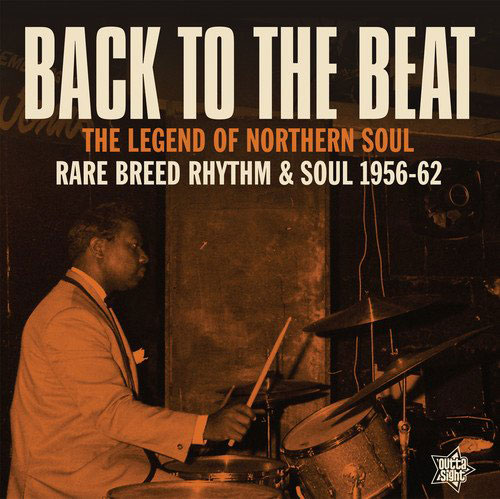 The Outta Sight label has a few interesting things in the pipeline, including the Back To The Beat – Rare Breed Rhythm & Soul 1956-62 vinyl.
The title sums it up, a collection of R&B from the late '50s into the early 1960s. 16 tracks on vinyl, with the track listing below, if you want to cross reference.
Or alternatively, the label's own description:
Combined here are the explosive talents of R&B and Soul music history featuring such legends as Joe Simon, Nina Simone, Bobby Adams, Grover Mitchell and Eddie Banks with his Five Dreamers.
Back To The Beat bursts into action with a mighty fine slice of Tennessee soul courtesy of happy-go-lucky Herbert Hunter, a top-off that defines The Beat and is the first of two sides from Ted Jarrett's Poncello imprint, the second being Ricky Rezell's storming 'What You Bet'.
The pace is relentless as the heavyweights of rhythm & soul power through the set that pairs Northern Soul favourites Dean Barlow and the Profiles alongside the ferocious Bertha Tillman, Big Boy Myles and Mary Johnson. Dale Cunningham closes proceedings with the rarest of the original 45s, the big-money 'Too Young'.
It lands on 4th August 2017, priced at £15.70 if you want to pre-order.
Find out more at the Amazon website
Track listing:
1. The Big Oak Tree – Herbert Hunter
3. What You Bet – Ricky Rezell
4. Come On Back, Jack – Nina Simone
5. Third Window From The Right – Dean Barlow
6. What A Mess – Bobby Adams
7. Come On And Tell Her – Benny Freeman
8. (I Believe) Something Funny Is Going On – Bertha Tillman
9. Come On Home – George Allen
10. That's A Good Idea – Grover Mitchell
11. Sugar Diabetes – Eddie Banks with The Five Dreamers
12. She's So Fine – Big Boy Myles
13. Take A Giant Step (Walk On) – The Profiles
14. These Tears – Mary Johnson
15. I'm Going Home – Prince Conley
16. Too Young – Dale Cunningham
Save