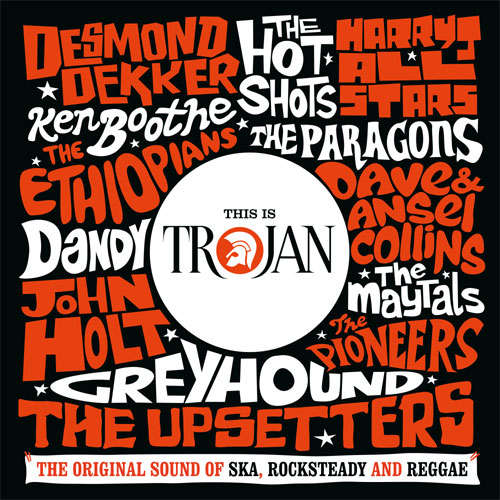 Perhaps not one for rarities, but if you want an introduction to the label, we think you might appreciate the new This Is Trojan six-album vinyl box set.
Yes, six albums and 60 tracks, with the vinyl pressed on 180 gram heavyweight vinyl and housed in cardboard packaging, as well as each having its own sleeve.
The set is described, quite aptly, as 'the ultimate introduction' to Trojan Records, featuring 60 ska, rock steady and reggae classics from the label's golden age. As well as that eye-catching packaging, there's also an essay on the label from legendary DJ and long time Trojan Records fan, Don Letts.
All the tracks are listed below and if you want one, you can pre-order now ahead of the 28th July release date. It retails for £45.59.
Find out more at the Amazon website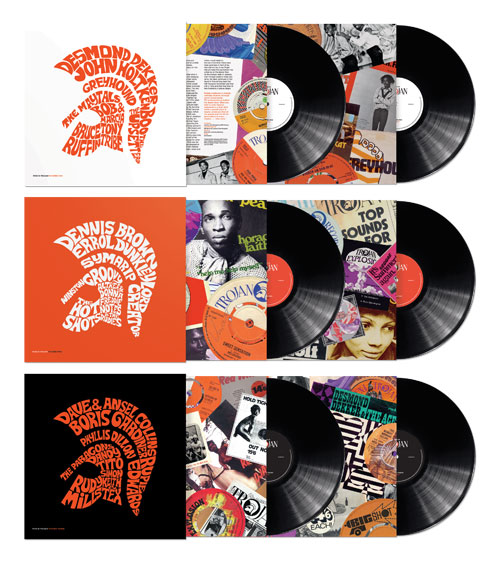 LP1:
1/ Desmond Dekker & The Aces – Israelites
2/ Dave & Ansel Collins – Double Barrel
3/ Nicky Thomas – Love Of The Common People
4/ Harry J All Stars – Liquidator
5/ The Maytals – Monkey Man
1/ Tony Tribe – Red Red Wine
2/ Bob & Marcia – Young, Gifted & Black
3/ The Pioneers – Let Your Year Be Yeah
4/ John Holt – Help Me Make It Through The Night
5/ Horace Faith – Black Pearl
LP2:
1/ Greyhound – Black And White
2/ Bruce Ruffin – Rain
3/ Dandy Livingstone – Suzanne Beware Of The Devil
4/ The Melodians – Sweet Sensation
5/ The Upsetters – Return Of Django
1/ Desmond Dekker & The Aces – Shanty Town
2/ Ken Boothe – Everything I Own
3/ Susan Cadogan – Hurt So Good
4/ Boris Gardiner – I Wanna Wake Up With You
5/ Sophia George – Girlie Girlie
LP3:
1/ Althea & Donna – Uptown Top Ranking
2/ Errol Dunkley – OK Fred
3/ Dennis Brown – Money In My Pocket
4/ Boris Gardiner – You're Everything To Me
5/ Desmond Dekker & The Aces – It Mek
1/ Symarip – Skinhead Moonstomp
2/ The Pioneers – Longshot Kick De Bucket
3/ The Maytals –
4/ Lord Creator – Kingston Town
5/ Winston Groovy – Please Don't Make Me Cry
LP4:
1/ The Slickers – Johnny Too Bad
2/ Freddie Notes & The Rudies – Montego Bay
3/ Bob & Marcia – Pied Piper
4/ Greyhound – Moon River
5/ Ken Boothe – Crying Over You
1/ Rupie Edwards – Ire Feelings (Skanga)
2/ Desmond Dekker – Sing A Little Song
3/ Bruce Ruffin – Mad About You
4/ The Hot Shots – Snoopy Vs The Red Baron
5/ Pluto Shervington – Dat
LP5:
1/ Desmond Dekker – You Can Get It If You Really Want
2/ The Paragons – The Tide Is High
3/ Dandy – Rudy A Message To You
4/ Dave & Ansel Collins – Monkey Spanner
5/ The Melodians – Rivers Of Babylon
1/ Boris Gardner – Elizabethan Reggae
2/ The Ethiopians – Train To Skaville
3/ Rudy Mills – John Jones
4/ Keith & Tex – Stop That Train
5/ Phyllis Dillon – Perfidia
LP6:
1/ Justin Hinds & The Dominoes – Carry Go Bring Come
2/ Lord Tanamo – I'm In The Mood For Ska
3/ Pluto Shervington – Ram Goat Liver
4/ Tito Simon – This Monday Morning Feeling
5/ Greyhound – I Am What I Am
1/ Rupie Edwards – Lego Skanga
2/ Desmond Dekker & Aces – Pickney Gal
3/ The Upsetters – Dollar In The Teeth
4/ Derrick Morgan – Moon Hop
5/ Tommy McCook & The Supersonics – Reggae Merengue