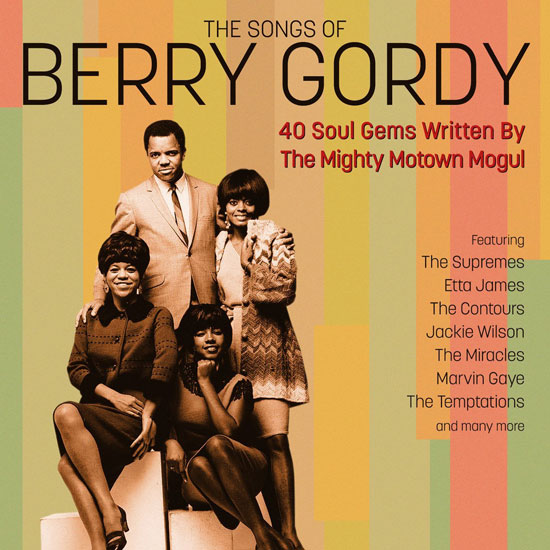 Just spotted The Songs of Berry Gordy on pre-order, a budget two-CD collection landing this week.
It is pretty much self-explanatory. Although perhaps best-known as the 'mogul' behind the label, Berry Gordy also write a good number of songs himself. Some well known, other less so.
When I say well known, I mean it too, with the likes of Do You Love Me by The Contours, Money (That's What I Want) by Barrett Strong, Shop Around by The Miracles and Reet Petite by Jackie Wilson here for example.
But the known tracks are overshadowed by lesser-known songs, which is perhaps the appeal of this set if you aren't a serious Motown collector. That and the price of this 40-track CD set of course.
You can pick this up for £5.42, with the release date this coming Friday.
Find out more at the Amazon website
Track Listing:
Disc: 1
1. Do You Love Me – The Contours
2. Come To Me – Mary Wells
3. That's Why (I Love You So) – Jackie Wilson
4. Move Two Mountains – Marv Johnson
5. Way Over There – The Miracles
6. Let Me Go The Right Way – The Supremes
7. I'm Wandering – Aretha Franklin
8. Please Forgive Me – Mary Wells
9. I'll Be Satisfied – Jackie Wilson
10. Dream Come True – The Temptations
11. Money (That's What I Want) – Barrett Strong
12. Camel Walk – Labrenda Ben And The Beljeans
13. Ain't Gonna Be That Way – Marv Johnson
14. I Don't Want To Take A Chance – Mary Wells
15. Won't You Take Me Back – The Miracles
16. Let Your Conscience Be Your Guide – Marvin Gaye
17. All I Could Do Was Cry – Etta James
18. I Need You – Marv Johnson
19. Two Wrongs Don't Make A Right – Mary Wells
20. To Be Loved – Jackie Wilson
Disc: 2
1. Reet Petite – Jackie Wilson
2. Shop Around – The Miracles
3. Buttered Popcorn – The Supremes
4. Shake Sherry – The Contours
5. I'm Gonna Stay – Mary Wells
6. The Magic Song – Bobby Helms
7. Lonely Teardrops – Jackie Wilson
8. Looking For A Man – Mable John
9. Broken Hearted – The Miracles
10. I Want A Guy – The Supremes
11. Bad Boy – Mary Wells
12. I Love The Way You Love – Marv Johnson
13. You'll Never Cherish A Love So True – The Vells
14. No Love – Mable John
15. Don't Leave Me – The Miracles
16. We Have Love – Jackie Wilson
17. You Got What It Takes – Marv Johnson
18. Your Wonderful Love – The Temptations
19. Never Again – The Supremes
20. Depend On Me – The Miracles