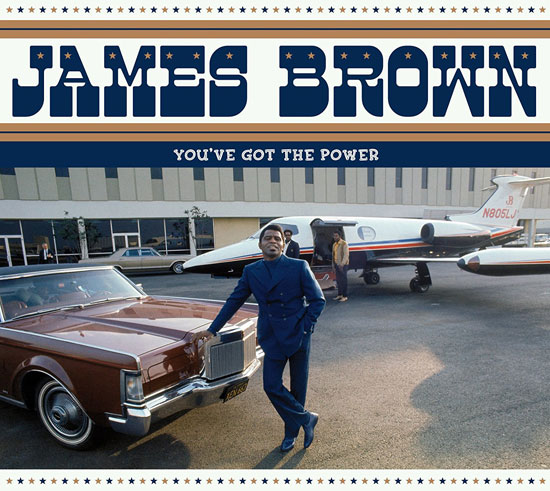 If you want to get to know his early work, then the James Brown – You've Got The Power budget CD box set should be a good starting point for you.
This is a three-disc budget box set from the New Continent label (no, I've not heard of it either), bringing together 75 remastered studio tracks, consisting of the early singles both A & B sides James Brown made for the Federal and King labels between 1956 and 1962.
So the likes of Please, Please, Please, Think, Try Me, Shout and Shimmy, Night Train, I Want You So Bad, It Was You, and the instrumental numbers Cross Firing and Hold It for example.
You even get I Got You (I Feel Good), but not as you know it. Brown's back-up singer Yvonne Fair takes on the original version, titled I Found You. Saying that, you might already have that, not least because it got compiled on the Godfather's R&B collection from Ace some years back.
But what it might lack in originality it makes up in quantity with those 75 tracks over three CDs, with a 20-page booklet featuring rare photos, vintage memorabilia and liner notes also included.
In light of all of that, the £8.58 asking price seems pretty good value on the face of it. Tracks below, the shelf date is 25th May 2018 and you can pre-order now.
Find out more at the Amazon website
Track listing:
Disc: 1
1. PLEASE, PLEASE, PLEASE
2. WHY DO YOU DO ME
3. I DON'T KNOW
4. I FEEL THAT OLD FEELING COMING ON
5. NO, NO, NO, NO
6. HOLD MY BABY'S HAND
7. I WON'T PLEAD NO MORE
8. CHONNIE – ON
9. JUST WON'T DO RIGHT
10. LET'S MAKE IT
11. GONNA TRY
12. CAN'T BE THE SAME
13. MESSING WITH THE BLUES
14. LOVE OR A GAME
15. YOU'RE MINE, YOU'RE MINE
16. I WALKED ALONE
17. THAT DOOD IT
18. BABY CRIES OVER THE OCEAN
19. BEGGING, BEGGING
20. THAT'S WHEN I LOST MY HEART
21. TRY ME (I NEED YOU)
22. TELL ME WHAT I DID WRONG
23. I WANT YOU SO BAD
24. THERE MUST BE A REASON
Disc: 2
1. I'VE GOT TO CHANGE
2. IT HURTS TO TELL YOU
3. DOODLE BEE
4. GOOD GOOD LOVIN'
5. DON'T LET IT HAPPEN TO ME
6. IT WAS YOU
7. GOT TO CRY
8. I'LL GO CRAZY
9. I KNOW IT'S TRUE (I FOUND SOMEONE)
10. THINK
11. YOU'VE GOT THE POWER
12. THIS OLD HEART
13. WONDER WHEN YOU'RE COMING HOME
14. THE BELLS
15. AND I DO JUST WHAT I WANT
16. HOLD IT
17. THE SCRATCH
18. BEWILDERED
19. IF YOU WANT ME
20. I DON'T MIND
21. LOVE DON'T LOVE NOBODY
22. SUDS
23. STICKY
24. I'VE GOT TO CHANGE – Stereo version
25. IT HURTS TO TELL YOU – Stereo version.
Disc: 3
1. CROSS FIRING
2. NIGHT FLYING
3. BABY, YOU'RE RIGHT
4. I'LL NEVER, NEVER LET YOU GO
5. JUST YOU AND ME, DARLING
6. I LOVE YOU, YES I DO
7. LOST SOMEONE
8. I FOUND YOU
9. IF I KNEW
10. NIGHT TRAIN
11. WHY DOES EVERYTHING HAPPEN TO ME
12. SAY SO LONG
13. SHOUT & SHIMMY
14. COME OVER HERE
15. MASHED POTATOES U.S.A.
16. YOU DON'T HAVE TO GO
17. IT HURTS TO BE IN LOVE
18. YOU CAN MAKE IT IF YOU TRY
19. (CAN YOU) FEEL IT – PART 1
20. (CAN YOU) FEEL IT – PART 2
21. THREE HEARTS IN A TANGLE
22. I'VE GOT MONEY
23. LIKE A BABY
24. EVERY BEAT OF MY HEART
25. CHOO – CHOO (LOCOMOTION)
26. (DO THE) MASHED POTATOES [Parts 1 & 2]*