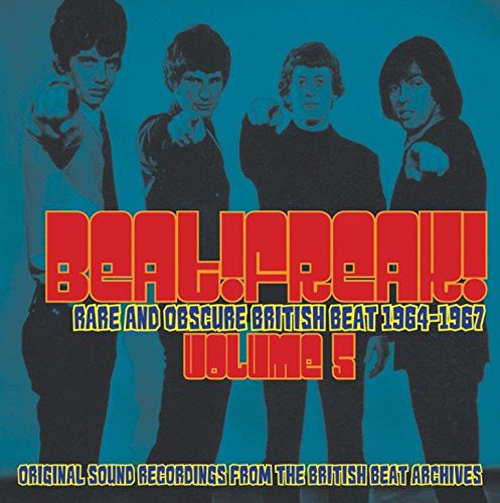 Volume 4 only landed in November, but that has been followed pretty swiftly by Beatfreak Volume 5.
It's a similar scenario, so if you liked or like the idea of past volumes, you probably want to give this one a listen too.
The label describes it as 'rare, obscure and virtually extinct' slices of lost beat 'with a whiff of R&B'. Each track has been found and professionally re-mastered from the original sound recordings, with comprehensive background liners and rare colour, archival photos in the 20-page colour booklet.
The label is Particles, the release date is 3rd March 2017 and the price is £9.23.
Find out more at the Amazon website
Track listing:
1. THE REDCAPS – Funny Things (1964)
2. THE LITTLE DARLINGS – Easy to Cry (1965)
3. LEE GRANT AND THE CAPITOLS – Don t Cry Baby (1966)
4. THE CHEETAHS – Russian Boat Song (1966)
5. THE DEEJAYS – Hooked (1966)
6. LIVERPOOL FIVE – I m Not Your Stepping Stone (1966)
7. TRACY ROGERS – Baby (1966)
8. BEAN AND LOOPY S LOT – A Stitch In Time (1966)
9. THE CHANTERS – All Day Long (1967)
10. THE JYNX PACK – She s In Love (1965)
11. THE IN-BETWEENS – Take A Heart (1965)
12. JIMMY POWELL AND THE FIVE DIMENSIONS – I m Looking For A Woman (1964)
13. STEVE DARBISHIRE – I Do Know (1966)
14. TERRY BRANDON AND THE BEATMEN – Don t Bring Me Down (1964)
15. THE CHEYNES – Down And Out (1965)
16. THE FAIRIES -I ll Dance (1965)
17. BAD BOYS -Kicks (1966)
18. LIVERPOOL FIVE – New Directions (1966)
19. THE PETE BEST COMBO – Keys To My Heart (1965)
20. DOWNLINERS SECT – Outside (1966)