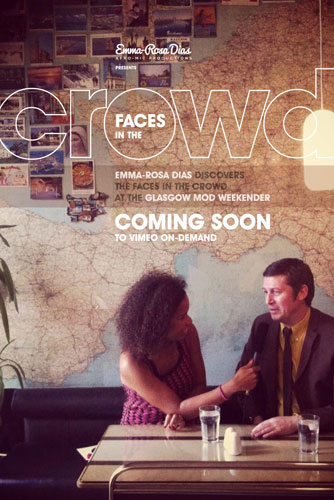 Technology has changed a lot of things, but above all, advances in tech and and more affordability means anyone can do things that were once the domain of TV companies and record labels. The Faces In The Crowd mod documentary sums this up perfectly.
It's an upcoming documentary from Emma-Rosa Dias, a Belfast-based TV producer and presenter, who is making her own mini series of documentaries on the mod scene. The kind of thing late night Channel 4 might have done a few years back.
She says: 'There's a great story waiting to be told about the mod scene. It always connects with so many people. Generation after generation reinvents it in its own way but at its heart it has changed surprisingly little.'
These are self-funded projects, which kicked off with a mini movie about the (fairly) recent Northern Ireland Mod Weekender in Bangor. The next project is more ambitious, filmed at the even more recent Glasgow Mod Weekender, talking to the people there about mod and what it means to them. It's a 35-minute movie, currently being edited and offered online within the next few weeks (we'll let you know when).
The documentary will be available to download from Vimeo On Demand for £1.49, with every penny raised will go towards the filming of further documentaries.
'The next step is to develop this story on a bigger documentary scale,' Emma-Rosa says. 'I've only seen the tip of the iceberg and there's so much more I have to explore and many more key people I have to meet. I hope I can take it further and if the support and feedback continues to be as good as it has been then that's exactly what I'll do.'
If you want to check out the Northern Ireland doc in the meantime, that's below and free to watch: