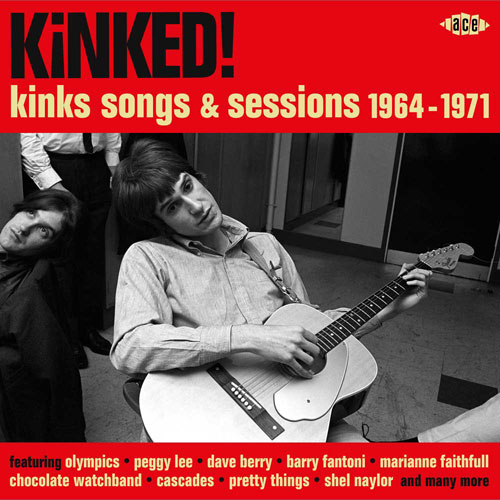 Liking the sound of Kinked! Kinks Songs and Sessions 1964 – 1971, which is heading your way via Ace Records.
This is a compilation that's all about the songs of Ray Davies.
Ace describes this as 'an alternative celebration of the Kinks' first decade' courtesy of the songs that 'got away'. The tracks Davies wrote, but passed onto other acts to perform and record in the UK and overseas. Basically, our Ray had too much good material. Some was recorded later by The Kinks, other tracks not so.
26 tracks are compiled here, recorded by a diverse set of performers, from the jazzy (Peggy Lee) and teen pop (Bobby Rydell, The Orchids and Goldie & The Gingerbreads) through to mainstream acts like Herman's Hermits and beat / garage bands such as the Pretty Things and the Chocolate Watchband.
Several of the tracks here are previously unissued alternate versions / mixes or recent vault discoveries. So some real finds. There's also the occasional appearance from the band themselves too, with some tracks featuring some or all of the Kinks playing, while one track ('One Fine Day') comes from the pen of Dave Davies.
Throw in some detailed liner notes and this sounds like a gem. 25th March is the release date, with pre-orders available for £12.03. Track listing below.
Find out more about the CD at the Amazon website
Track listing:
1. King Of The Whole Wide World – Leapy Lee
2. I Bet You Won't Stay – The Cascades
3. Look For Me Baby – Goldie & The Gingerbreads (Prev. Unissued)
4. I Go To Sleep – Peggy Lee
5. This Strange Effect – Dave Berry
6. All Night Stand – The Thoughts
7. So Mystifying The Olympics (Prev. Unissued)
8. Un Jeune Homme Bien – Petula Clark
9. One Fine Day – Shel Naylor
10. Oh What A Day It's Gonna Be – Mo & Steve
11. Little Man In A Little Box – Barry Fantoni
12. A House In The Country – The Pretty Things
13. When I See That Girl Of Mine – Bobby Rydell
14. Nobody's Fool – Cold Turkey
15. Act Nice And Gentle Duster Bennett
16. I've Got That Feeling – The Orchids
17. Emptiness – The Honeycombs
18. Rosie Won't You Please Come Home – Marianne Faithfull
19. I'm Not Like Everybody Else The Chocolate Watchband
20. Who'll Be The Next In Line – The Knack
21. Dandy – Herman s Hermits
22. The Virgin Soldier's March – The John Schroeder Orchestra
23. A Little Bit Of Sunlight – The Majority
24. Big Black Smoke – Mick & Malcolm
25. Mister Pleasant – Nicky Hopkins & His Whistling Piano
26. End Of The Season – The Uglys