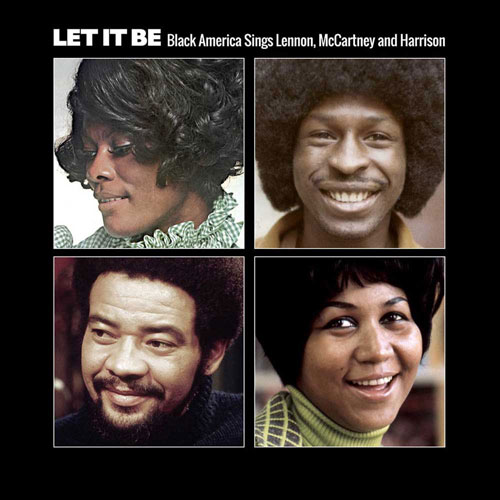 If you picked up and enjoyed the 2011 Come Together
compilation of soul takes on Beatles tracks, then you'll probably want to pick up Let It Be: Black America Sings Lennon, McCartney & Harrison (Ace Records).
As you might have guessed, this is more of the same. Which is no bad thing as the first compilation was a cracker. This new volume features 22 reinterpretations of Beatles classics, often taking the tunes in very different directions than the 'Fab Four'. But all too often, to great effect.
Plenty of household names and of course, you'll probably know The Beatles tunes too. But you might not have heard them together. Well, unless you have listened to our Beatles Get Covered Spotify Playlist, which features a few such tracks.
Anyway, this is an Ace collection, so expect top other music, great packaging and in-depth sleevenotes. Everything a music lover wants. The release date is 30th September but you can pre-order now. It sells for £12.38. Track listing below.
Find out more and pre-order at the Amazon website
Track listing:
01 Eleanor Rigby – Aretha Franklin
02 Dear Prudence – The 5 Stairsteps
03 Got To Get You Into My Life – Earth, Wind & Fire
04 Do You Want To Know A Secret – Mary Wells
05 The Fool On The Hill – Four Tops
06 Lovely Rita – Fats Domino
07 Here Comes The Sun – Nina Simone
08 Ob-La-Di, Ob-La-Da – Arthur Conley
09 A World Without Love – The Supremes
10 Tomorrow Never Knows – Junior Parker
11 Don't Let Me Down – Randy Crawford
12 With A Little Help From My Friends – The Undisputed Truth
13 A Hard Day's Night – Screamin' Jay Hawkins
14 She Came In Through The Bathroom Window – Ike & Tina Turner
15 For No One – Maceo & All The King's Men
16 It's Only Love – Gary "US" Bonds
17 We Can Work It Out – Dionne Warwick
18 Hey Jude – The Temptations
19 In My Life – Boyz II Men
20 Savoy Truffle – Ella Fitzgerald
21 Something – Isaac Hayes
22 Let It Be – Bill Withers