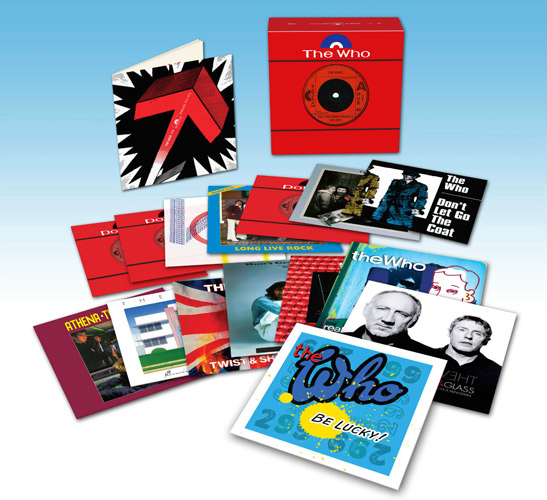 The final instalment of these boxes is about to land, namely The Who – The Polydor Singles 1975 – 2015.
As you probably know, the boxes have been issued of the band's output by label and era as part of the 50th anniversary celebration. This one has 15 x 7-inch singles from the band's Polydor Records era, each press on heavyweight vinyl with card picture sleeves (where possible) reproducing the period graphics front and back.
All of that comes in a rigid 'lid-and-tray' outer box complete with a 20-page colour booklet with liner notes about each release and period memorabilia.
If you want to see what's in the box, see the track listing below. If you just want to complete your set, you can pre-order now ahead of the 6th May 2016 release date. The retail price is £117.99. The other (earlier) boxes are still available too.
Find out more about the box set at the Amazon website
Box set contents:
1. 'Listening To You/See Me, Feel Me' b/w 'Overture'
2. 'Squeeze Box' b/w 'Success Story'
3. 'Who Are You' b/w 'Had Enough'
4. 'Long Live Rock' b/w 'I'm the Face', 'My Wife' (live)
5. '5.15' b/w 'I'm One'.
6. 'You Better You Bet' b/w 'The Quiet One'
7. 'Don't Let Go The Coat' b/w 'You'
8. 'Athena' b/w 'A Man Is A Man'
9. 'Eminence Front' b/w 'It's Your Turn' (This single was scheduled for release in the UK. Sleeves were printed but it was never released. It was to have been Who 7.)
10. 'Twist and Shout' b/w 'I Can't Explain' (Both live)
11. 'Won't Get Fooled Again / Bony Maronie' (Live at Young Vic)
12. 'Join Together' b/w 'I Can See For Miles' and 'Behind Blue Eyes' (All three tracks live from 1989 US tour)
13. 'Real Good-Looking Boy' b/w 'Old Red Wine'
14. WIRE & GLASS (EP) 'Sound Round', Pick Up The Peace', Endless Wire', We Got A Hit', 'They Made My Dream Come True', 'Mirror Door'. Polydor 1702801. Released 24 July 2006
15. 'Be Lucky' b/w 'I Can't Explain' (remixed)