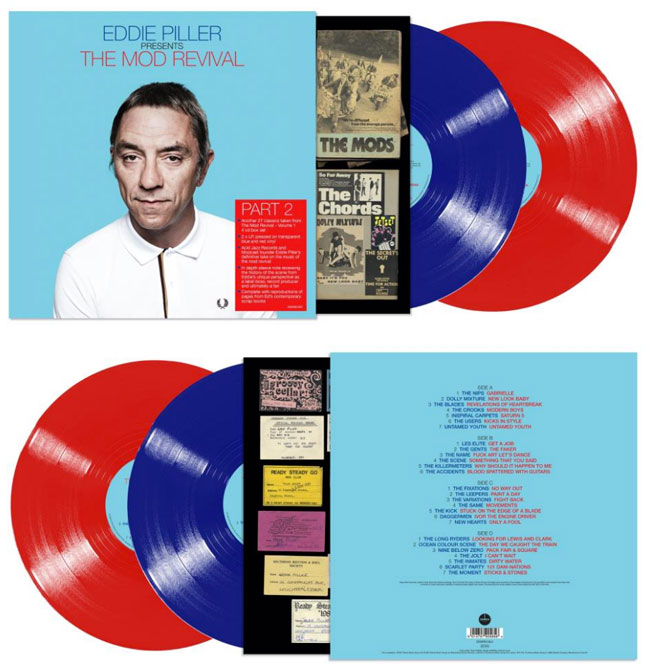 Note that I independently write and research everything in this article. But it may contain affiliate links.
Got the first instalment? Then you will probably want to pick up the upcoming Eddie Piller Presents The Mod Revival Part 2 vinyl set.
This is pretty much a companion piece to the original vinyl. If you've got the CD set of the original Eddie Piller Presents The Mod Revival (which was massively popular last year) then you are likely to have it covered.
That's because the vinyl that accompanied the original CD box was a selection of tracks from that set. Looking at this volume, it looks like it is a further selection of tracks from the collection on vinyl. Hence the point about it being a companion piece.
It's a lovely thing though. 27 tracks across two discs, with the vinyl being 180g red and blue transparent vinyl. There's also some sleevenotes and sleeves printed with material from Eddie's personal scrapbook.
Of course, you might want to argue about the tracks selected like last year. But here's a thing. This is Eddie Piller Presents The Mod Revival and as such, he's picked the tracks he thinks are right for the set. And judging by the response and the sales of the original collection, there was plenty of support for what made the cut.
If you want to see the tracks for this collection, see below. And if you want to order the vinyl, it lands on 23rd July 2021. If you want a copy, you can do that now, with the price at £26.99.
Find out more about the vinyl at the Amazon website
Tracklisting:
Side A
1. THE NIPS – Gabrielle
2. DOLLY MIXTURE – NEW LOOK BABY
3. THE BLADES- REVELATIONS OF HEARTBREAK
4. THE CROOKS – MODERN BOYS
5. INSPIRAL CARPETS – SATURN 5
6. THE USERS – KICKS IN STYLE
7. UNTAMED YOUTH – UNTAMED YOUTH
Side B
1. LES ELITE – GET A JOB
2. THE GENTS – THE FAKER
3. THE NAME – F**K ART LET'S DANCE
4. THE SCENE – SOMETHING THAT YOU SAID
5. THE KILLERMETERS – WHY SHOULD IT HAPPEN TO ME
6. THE ACCIDENTS – BLOOD SPATTERED WITH GUITARS
Side C
1. THE FIXATIONS – NO WAY OUT
2. THE LEEPERS – PAINT A DAY
3. THE VARIATIONS – FIGHT BACK
4. THE SAME – MOVEMENTS
5. THE KICK – STUCK ON THE EDGE OF A BLADE
6. DAGGERMEN – IVOR THE ENGINE DRIVER
7. NEW HEARTS – ONLY A FOOL
Side D
1. THE LONG RYDERS – LOOKING FOR LEWIS AND CLARK
2. OCEAN COLOUR SCENE – THE DAY WE CAUGHT THE TRAIN
3. NINE BELOW ZERO – PACK FAIR & SQUARE
4. THE JOLT – I CAN'T WAIT
5. THE INMATES – DIRTY WATER
6. SCARLET PARTY – 101 DAM-NATIONS
7. THE MOMENT – STICKS & STONES
Love Modculture? If you enjoy what you read or have benefitted from it and want to help with the ever-increasing costs of the site, you can always buy me a coffee.