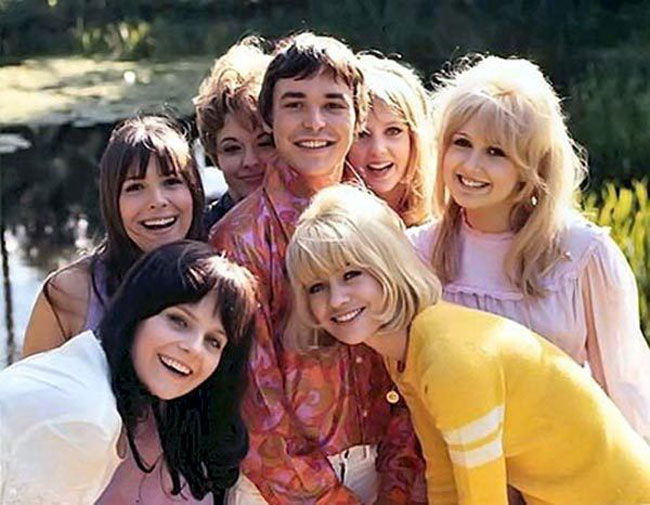 Note that I independently write and research everything in this article. But it may contain affiliate links.
Originally a Hunter Davies book about mid-60s Carlisle, Here We Go Round The Mulberry Bush made it to the big screen in 1968.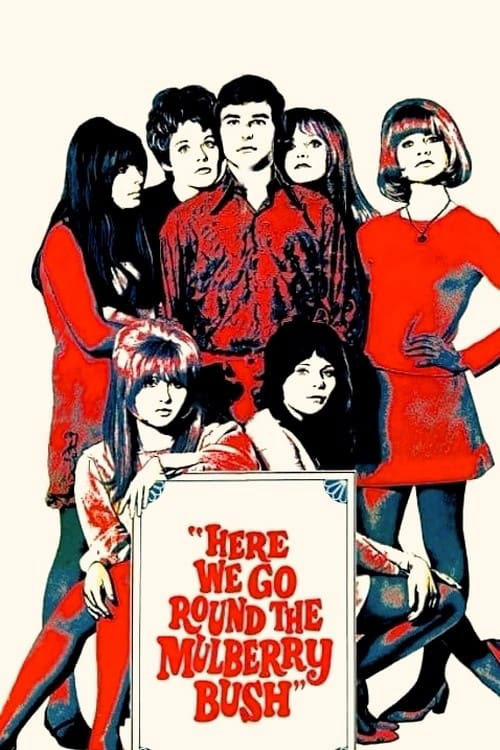 That was care of director Clive Donner and to be honest, it got a fairly muted critical response at the time. But the intervening years have been particularly kind to it. Indeed, Here We Go Round The Mulberry Bush is now seen as an archetypal swinging 60s movie. Not bad for something set in the humble surroundings of the new town of Stevenage.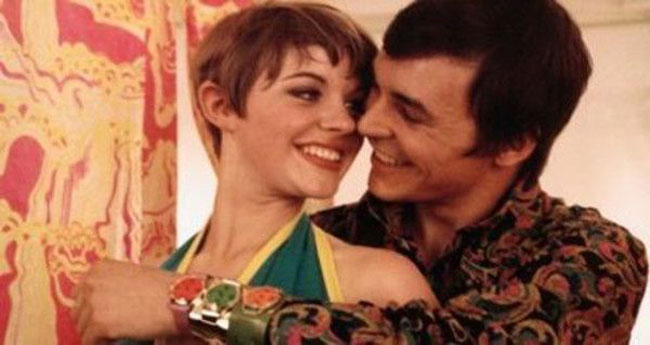 Set at the back end of the swinging sixties era, just before the advent of the hippy dream, Mulberry Bush is built around Jamie McGregor (Barry Evans) – 6th form schoolboy, part-time delivery boy and a wannabe member of the permissive society.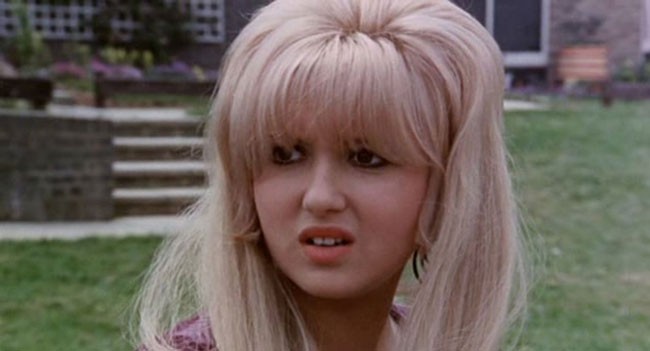 There's just one problem. The girl of his dreams, Mary Gloucester (Judy Geeson), is out of his reach. She's just that bit too attractive, too upper class and too confident for him, preferring to spend her time playing the field of affluent young males in the area.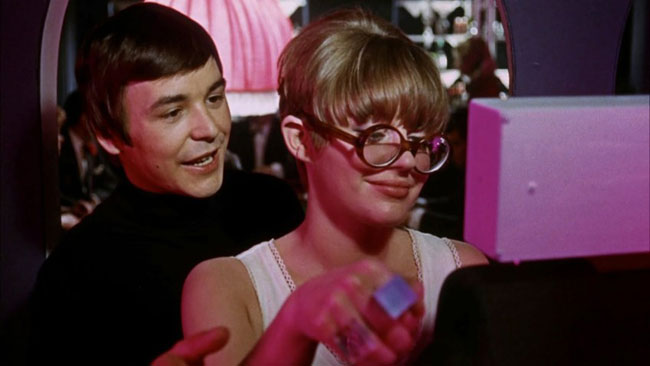 So what does Jamie do? Simple – he gets on with his studies, does his deliveries and spends his spare time chasing all the other girls in the area, from the slightly dim and downmarket 'runny old' Linda (Adrienne Posta) to the upmarket 'posh totty' of Caroline Beauchamp (Angela Scoular) and Audrey (Vanessa Howard), not to mention the church-loving Paula (Sheila White). All with varying degrees of success, although mostly it's a big, fat fail for our wannabe teenage lothario.
Eventually, he gets in with the girl of his dreams. But is Jamie's fairy tale all he dreamt of and wanted? Of course, it isn't…although that doesn't stop Jamie's world from coming to a happy conclusion. Well, sort of.
It all sounds very simplistic and to be honest, it pretty much is that. Good, simple, sixties-style fun. But Here We Go Round The Mulberry Bush does have more to offer than a bit of old school slap and tickle and a particularly 'groovy' soundtrack.
What it does have is Stevenage, for a start. Ok, it's not exactly Carnaby Street, but it was pitched as 'the mood of swinging new Britain' and adds a layer of optimism to a movie that all too easily could have ended up as another dark, grey, 'kitchensink' flick if it was actually set in the original location of Carlisle. Not that I've anything against Carlisle. Far from it.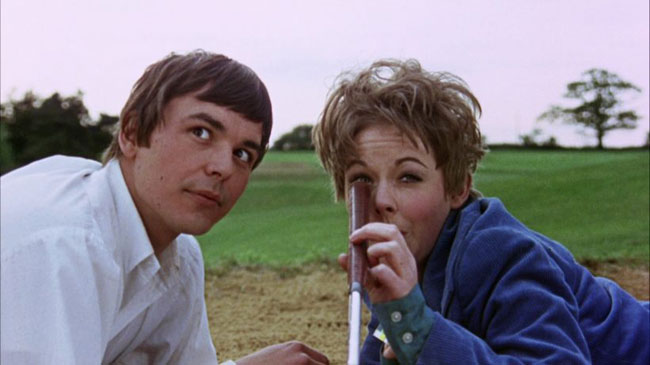 It also has a superb cast. Despite being 23 when he played the role, Barry Evans pulls off the excitable, occasionally confident, but self-aware schoolboy role with some style. He is also ably supported on the male side by the likes of Christopher Timothy as best mate Spike, Nicky Henson and Roy Holder. Much is made of the women's clothing in the movie, but check out the blokes' clobber too for an idea of the period look. Anyone who thought trainers only went mainstream in the 70s should check out Spike's Adidas footwear.
But the women all too often do steal the scenes. Not surprising with the likes of Judy Geeson, Angela Scoular, Adrienne Posta, Diane Keen and Sheila White ghosting into view, clad in the latest creations from the Ossie Clarke and Foale and Tuffin. It's the epitome of sixties cool. Was it really like this in Stevenage? Of course not, but when the results are this eye-catching, I'm not complaining about the use of artistic license.
Not only that, Here We Go Round The Mulberry Bush screams with optimism. From the bright, psychedelic opening titles to the tunes of Traffic and the Spencer Davis Group (who appear in the movie as a church fete act), not to mention the previously-mentioned new town and the joys of youth – a party at the drop of hat, a girl on every corner and the optimism of the times, where hard work at school would get you a new career in a new (or old) town. It's all here and more.
Well almost. There's definitely an undercurrent of class tension throughout the movie, a sense of knowing your place, even in a new town. See how Jamie feels out of place at the upper class gatherings and how uncomfortable he (and his mother) look when doctor's daughter Mary comes to tea. The sixties was supposed to be the decade when the class system came crashing down. But even in a new town, everyone knew their level.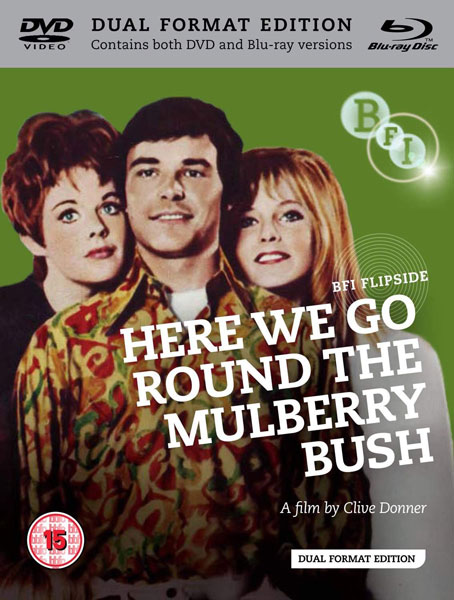 I first saw this movie years ago and like most people, struggled to find a decent copy. Then the definitive BFI/Flipside dual-format release came out and all was well with the world. In fact, it got even better as that issue of the movie is now available quite cheaply.
The BFI has restored the movie to its original length. Jamie and Mary's 'frolicking' is back (rarely seen 'back in the day') as are the minor cuts that might have offended a mainstream audience at the time, Mild stuff today, but things that might have got cinema-goers hot under the collar back in '68.
So yes, going back to my original point, the movie is fairly simplistic on the face of it. But you can dig deeper and find a period piece that's good for fashion spotters, architecture lovers, social issues, music fans and of course, anyone who loves quirky British cinema. It's also a tribute to Barry Evans, a man who never really escaped the 'man about town' image and died far too young in tragic circumstances.
Is it the best of the British swinging sixties flicks? That's for you to decide, but it's definitely in my top five. What's not to love here?
If you pick up that BFI version you also get extras, including plenty of essays and articles in the booklet, as well as the option to view a different cut of the movie along with two interesting and related shorts.
First up is Stevenage, made in 1971 as a promotional tool for Stevenage new town and a superb period piece. It's got the people, the architecture and the activities of young and old, all wrapped up within a council hard sell. But above all, it shows Stevenage as Jamie would have seen it, a great piece of background to the movie.
The second is called Because That Road Is Trodden, an interesting 1969 movie by Tim King showcasing an average day as a public schoolboy, his hopes, his desires and what he wants for the future. Yes, even public schoolboys could be troubled teens.
Nice additions to an excellent package and well worth picking up especially now the price is just £7.79. I don't think Stevenage swings like this today (if it ever did) but it might tempt you to check the job classifieds and property listings on the off-chance.
Find out more about the DVD and Blu-ray at the Amazon website
Update: Interestingly, this is now being shown on the oddly-named Sony Movies Action channel, which is on Freeview and does show the occasional 1960s gem. The next screening is on Monday 16th November at 11:40 pm. One to record if you can and haven't got it.
Love Modculture? If you enjoy what you read or have benefitted from it and want to
help with the ever-increasing costs of the site and newsletter
, you can always
buy me a coffee at Ko-Fi
. Every penny is helpful and appreciated.