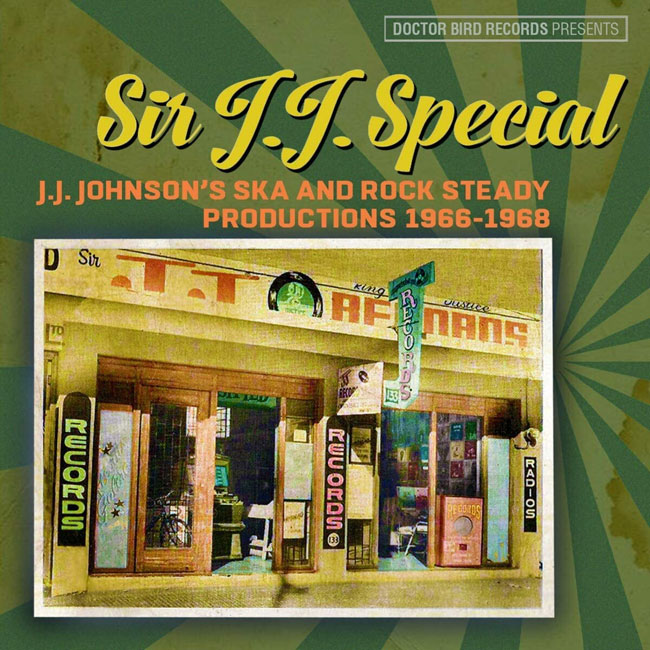 Featuring rare and new to CD tracks, J.J. Johnson's Ska and Rocksteady Productions 1966-1968 CD set is worth a look.
After embarking on a career as a record producer in 1966, record retailer and 'jukebox businessman' Karl 'J.J.' Johnson, enjoyed a series of Jamaican hits with a number of local artists, notably the Rulers and Carl Dawkins.
The hits continued throughout the rocksteady era, with the Kingstonians and Eric Donaldson's West Indians joining Johnson's 'small, but popular roster' of acts. These and many more feature on this collection, which is the very first compilation to focus on J.J. Johnson's pre-reggae output.
The set includes 34 tracks new to CD and many more that have remained unavailable for years. Basically, if ska and rocksteady are your bag, this collection is worth considering.
It comes out on 11th September 2020 via the Doctor Bird label, with pre-orders available now for £12.99. Tracks below.
Find out more at the Amazon website
Tracklisting:
DISC ONE: COPASETIC SOUNDS 1966-1967
1. GIVE ME JUSTICE – Lee Perry
2. I NEED YOUR LOVE – Earl Lowden & The Fugitives*
3. EVIL LOVE – The Uniques
4. BABY WHY – Earl Lowden with The Fugitives*
5. THE WOOD MAN – Lee Perry
6. NEVER GO AWAY – Earl Lowden & The Fugitives*
7. BE GOOD – The Rulers
8. BABY I LOVE YOU – Carl Dawkins
9. PEOPLE OF TODAY – Earl Lowden & The Fugitives*
10. DON'T BE RUDE – The Rulers
11. J.J. SPECIAL – Val Bennett & The Carib Beats*
12. HARD TIME – Carl Dawkins
13. TOO LATE – The Rulers*
14. I'M DEPENDING ON YOU – The Vibrators*
15. I WON'T GIVE IN – Carl Dawkins*
16. COPASETIC – The Rulers
17. ADDAMS FAMILY ROCK STEADY – The Carib Beats*
18. ALL OF A SUDDEN – Carl Dawkins*
19. MAN FREE – The Viceroys*
20. WHY DON'T YOU CHANGE – The Rulers
21. HEP TIME (HELP TIME) – Carl Dawkins*
22. NOSEY PEOPLE – The Viceroys*
23. DANGEROUS TOOL – The Inspirations*
24. RUNNING SHOES – Carl Dawkins*
25. INNOCENT MAN – The Viceroys*
26. WRONG EMBOYO – The Rulers
27. HOT AND STICKY – Carl Dawkins*
28. CALLING SOUL – Raymond Harper & The Carib Beats*
DISC TWO: FUN GALORE 1967-1968
1. WINEY WINEY – The Kingstonians
2. BEAUTY IS ONLY SKIN DEEP – The Soul Leaders
3. LET MY PEOPLE GO – The Rulers*
4. I DON'T CARE – The Kingstonians*
5. I NEED MONEY – Inspirations*
6. YOUR SAFE KEEP – Primo & Hopeton
7. MORE WINE – The Kingstonians*
8. BE MINE – The Rulers
9. POUR ON THE SAUCE – The Soul Leaders
10. CRIME DON'T PAY – The Kingstonians
11. LOVING AND KIND – Primo & Hopeton*
12. HOKEY POKEY – The West Indians*
13. FUN GALORE – The Kingstonians
14. WELL COVERED – The Rulers*
15. I MEAN IT – The West Indians*
16. MOMMY AND DADDY – The Kingstonians*
17. SOUL FOOD – Lyn Taitt & The Jets
18. FALLING IN LOVE – The West Indians*
19. FALSE WITNESS – The Kingstonians*
20. SLOT MACHINE – Ossie & The Kilowatts*
21. RIGHT ON TIME – The West Indians*
22. GIRLS LIKE DIRT – The Kingstonians
23. REAL COOL OPERATOR – Ossie & The Kilowatts*
24. BRING IT ON HOME TO ME – The Kilowatts
25. MUSIC FLAMES – Errol Brown
26. PUT DOWN YOUR FIRE – The Kingstonians*
27. WHAT A WONDERFUL WORLD – The Kilowatts*
28. MERRY CHRISTMAS – The Kingstonians
* NEW TO CD