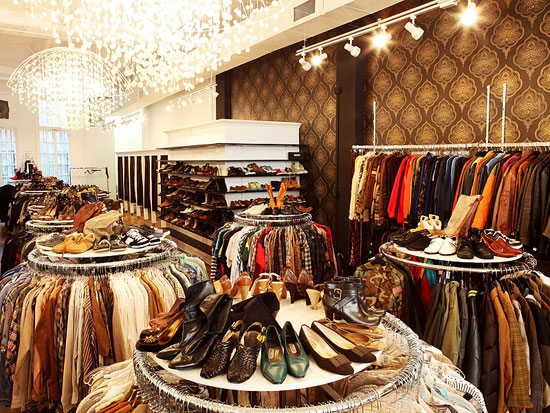 Note that I independently write and research everything in this article. But it may contain affiliate links.
Huge thanks to Derek from the excellent The Electric Mess for his help in putting together this mod's guide to New York. Read on for what we have and if you can any comments or can add anything to it, please get in touch with us (we suspect this one could run and run). Likewise, if you can help put together a guide your town or city.
Shops:
Clothes:
Trash and Vaudeville
4 St Marks Pl
(between 2nd Ave & 3rd Ave)
New York, NY 10003
http://www.trashandvaudeville.com/
Great selection of slim suits (in the past they have carried a range of Merc), striped pants and tees, winkle pickers and cuban heels of all colours and sizes. Rocker clothes, one of the last places to get proper chelsea boots, pants and mod suit jackets. Their in-house skinny pants are some of the best you'll find for the price (roughly 60 dollars). While some of the clothing definitely brings back the 70's punk/glam era, gems are to be had. If anything, it's Trash and Vaudeville. Enough said!
Topman / Topshop
478 Broadway
(between Laguardia Pl & Prince St)
New York, NY
One of your best bets for affordable menswear in the city. English influenced fashion at a reasonable price (you'll know what you get if you are from the UK).
Search & Destroy
25 St. Marks Pl
(between 3rd Ave & Astor Pl)
New York, NY 10003
Mostly punk stuff but a good selection of mod vintage.
J. Press
380 Madison Avenue
New York, NY 10017
Classic American style – the home of ivy league gear (especially with Brooks Brothers, just down the road, not being as good as it used to be). Also stocks British labels like Fred Perry, but the real buys here are the classic button-down.
Guvnor's Vintage
178 5th Avenue
Brooklyn, NY  11227
(718) 230-4887
http://www.guvnorsnyc.com
An exciting array of quite wearable, men's & women's vintage and vintage inspired clothing, accessories, & home items, which are always offered at incredibly reasonable prices.
Ben Sherman
96 Spring St. (between Broadway and Mercer St.)
New York, NY 10012
(212) 680-0160
The mod-inspired fashion you would expect if you check its website and current range, but at premium prices.
Beacon's Closet
Three locations in NYC:
10 W 13th St  (between 5th Ave & Avenue Of The Americas)
Manhattan, NY 10011
(917) 261-4863
in Williamsburg:
88 N 11th St (between Berry St & Wythe Ave)
Brooklyn, NY 11211
(718) 486-0816
in Park Slope:
92 5th Ave
(at 2nd Ave)
Brooklyn, NY 11215
(718) 230-1630
http://www.beaconscloset.com
A mix of new and vintage gently used clothing (pictured above). Ladies of all sizes can find great dresses and handbags; men who are a size medium and up have a better chance at finding Fred Perry, Penguin and Ben Sherman tops at great resale prices (under 20 dollars, mostly), though small and xsmall gems are thrown in at times. Worth a look.
Odd Twin
64 5th Ave
(between Douglass St & Degraw St)
Park Slope, Brooklyn, NY 11217
(718) 633-8946
http://www.oddtwin.com
Great for late '50s through early '70s threads and quite affordable too. Great spot for suits in terms of selection.
10ft Single
285 N. 6th Street, near Metropolitan Avenue
Brooklyn, NY
Tel: 718-486-9482
A stunning range of vintage American-made (and occasionally European) ivy league / prep / mod-era button down shirts. A gigantic loft-sized vintage clothing store in Williamsburg, Brooklyn. This store has an enormous selection of vintage clothes for both men and women, making it an absolute must-stop on your shopping trip to the neighborhood.
The store is divided into two rooms, the much larger front room being the 80s – 90s vintage and the back room is made-up of older, rarer (and more expensive) pieces from the 50s – 70s.
Family Jewels
130 W 23rd St (between 7th Ave & Avenue Of The Americas)
New York, NY 10011
(212) 633-6020
http://familyjewelsnyc.com/
In the Flat Iron District of Manhattan, with the best selection of '50s/60s-era sharkskin and mohair suits I've ever seen, most in immaculate condition, although kind of expensive: about $125-$275, depending on the suit. They also have tons of separates, as well as great 60's-early 70s polos, cardigans, and sweaters (these are about $50 a pop)
L Train Vintage
http://ltrainvintage.com/
Several locations – see the website for the nearest one.
Cache for ladies looking for inexpensive, cute dresses, bags and scarves. You have to dig to find gems, but it can be worth the hunt.
Amarcord Vintage
Two locations:
SoHo
252 Lafayette Street (btwn Prince & Spring)
New York, NY 10012  tel/ fax: 212.431.4161
and
Williamsburg
223 Bedford Avenue (btwn N. 4th and N. 5th St.)
Brooklyn, NY 11211  tel: 718.963.4001
http://amarcordvintagefashion.com/
Primarily designer vintage resale, with some Pucci and other 60's designers present.
Vintage records and re-editions:
Earwax
218 Bedford Ave., at N. 5th St
Brooklyn, NY 11211
718-486-3771
In Williamsburg is great for garage, psych, Krautrock, tropicalia, and rarities – both records and CDs).
Kim's Video
124 1st Ave (between 7th St & St Marks Pl)
New York, NY 10009
(212) 533-7390
http://www.mondokims.com/
In the East Village, has a rather small but well-stocked vinyl section, and I have scored many great and even hard to find LPs in their used section,
as well as rare and hard to find DVDs.
Bleeker Street Records
239 Bleecker St
(between Carmine St & Leroy St)
New York, NY 10014
CDs, vinyl, vintage vinyl, posters and more.
Generation Records
210 Thompson St
(between 3rd St & Bleecker St)
New York, NY 10012
(212) 254-1100
http://www.generationrecords.com
In Greenwich Village, Generation Records has been NYC's best source for new and used vinyl and CDs, 45s, DVDs, posters and t-shirts. While known for an extensive metal and punk collection, you'll find many different genres on the shelves at generally fair prices.
Record Grouch
986 Manhattan Ave (between Huron St & India St)
Brooklyn, NY 11222
In Greenpoint is quite awesome: records only, mostly used (tons of '60s albums), but some new too, and they have great prices.
($8-12 for used, $18-25 for new).
Other Music
15 E. 4th St. @ Lafayette St.
Manhattan/NYC 10003
Subway: 6 – Astor Pl., BDFV – Broadway-Lafayette St.
212-477-8150 | web: Other Music
This large store has been a Manhattan institution for quite a while. There's a good (not amazing) vinyl section here as well as a large selection of CDs.
Academy Annex
96 N 6th St.  (between Bedford Ave & Berry St)
Brooklyn, NY 11211
(718) 218-8200
http://www.academyannex.com
In Williamsburg is pretty great also (records mostly, with a very small used CD section).
Miscellaneous:
Vintage Thrift
286 3rd Ave  (between 22nd St & 23rd St)
New York, NY 10010
(212) 871-0777
http://vintagethriftshop.org/
Focuses primarily on furniture and home decor from all decades. If anything, the window displays are stunning!
Pippin Jewlry:
112 W 17th St  (between 7th Ave & Avenue Of The Americas)
New York, NY 10011
http://pippinvintage.com/
In Chelsea, jewelry and a small selection of home goods from all eras. Fairly priced, great quality/condition jewelry to match any color outfit. Ranges from costume to fine jewelry resale.
The Film Forum
209 West Houston Street
New York, NY 10014
(212) 727-8110
http://www.filmforum.org/
Repertory and new independent movie house, showing classic cinema, music docs. or you may find some sort of mod / swinging 60s film playing there as part of a festival.
Anthology Film Archives
32 Second Avenue
New York, NY 10003
(212) 505-5181
http://anthologyfilmarchives.org/
Revival house with focus on experimental cinema, but often shows cool films from the 60s, 70s etc.
Dance Parties / Bands / DJs:
These are provisional listings – before setting out (or arranging to meet people) it might be worth checking locally if the night is still on or checking online or on Facebook. Alternatively, you should check http://garagepunknyc.com for the latest happenings, as it tends to be the best resource for NYC nightly happenings.
Shakin' All Over Under Sideways Down
Home Sweet Home
131 Chrystie St.
(Between Delancey & Broome)
New York, NY
Bar Telephone: 212-226-5709
www.homesweethomebar.com
Friday nights from 11pm – 4am at Home Sweet Home, DJ Jonathan Toubin and guests spinning mod, garage and soul.
Midnight Offerings
Leftfield (Basement)
87 Ludlow St. NYC!
An All 45rpm rock 'n' roll dance party with DJ Josh Styles spinning US garage, psych, soul, greasy RnB, girl groups and international freakbeat from 11am – 4pm.
Real Gone!
Otto's Shrunken Head
538 East 14th Street (between Avenue A & Avenue B)
New York, NY 10009
http://www.ottosshrunkenhead.com/
Every last Friday of the month from 10pm – 4am – Captain Heartlock, KittyBeat, Dr. Jones spin garage, psych, soul and host live bands.
Unsteady Freddie's Surf-Rock Shindig
Otto's Shrunken Head
538 East 14th Street (between Avenue A & Avenue B)
New York, NY 10009
http://www.ottosshrunkenhead.com/
Monthly event, featuring bands and DJs.
Rebel Night
Otto's Shrunken Head
538 East 14th Street (between Avenue A & Avenue B)
New York, NY 10009
http://www.ottosshrunkenhead.com/
Rebel Night is a bi-monthly rockabilly record hop playing '50s and '60s rock'n roll since 2005. Hosted by three crazy Japanese DJs, DJ Sei, Jun, and Hiromu who bring back the 50's rock 'n roll scene with killer music all on original 45 rpm records! Rockabilly, R'n'B, garage, soul and blues. Rebel Night is for true music lovers, dancers and boozers, where you can hear real original sounds from the 1950s and '60s.
Freaky Fridays
The Ding Dong Lounge
929 Columbus Avenue
(between 105th St & 106th St)
New York, NY 10025
www.dingdonglounge.com
DJ La La Linda spins the sounds of sonic sweetness while VJ Linear Regression turns-on the sights. From Garage to Godzilla to Punk to Pulp Fiction. And everything betwixt and between. Second and fourth Fridays of the month. 10pm onwards – no cover.
Copycat
Otto's Shrunken Head
538 East 14th Street (between Avenue A & Avenue B)
New York, NY 10009
http://www.ottosshrunkenhead.com/
Copycat is an all cover song night that happens every 2nd and 4th Wednesday of the Month at Otto's Shrunken Head in the East Village, NYC. DJ Xerox and guest DJs spin all cover songs up front while bands play sets in back.  Past Copycat nights have been The Yardbirds, The Who, The Sonics, 'Nuggets', Punk 77, Love, The Kinks. Always Free!
More at this Facebook page.
Finger Lickin' Fridays
Grand Victory
245 Grand St.
Williamsburg, Brooklyn, NY 11211
http://www.thegrandvictory.com/
The last Friday of every month Charles Gaskins and Drew Redmond spin the best garage, R&B, surf, and soul.
More on this Facebook page.
Mr Fine Wine's Soul Spins
Botanica Bar
47 E Houston St Ste B
(between Mulberry St & Greene St)
New York, NY 10012
https://plus.google.com/117071119139841947889/about?gl=us&hl=en
Every Wednesday. One of the pre-eminent soul DJs and collectors in the country spins rare soul and R&B on '45s.
Another Scorcher
Last Exit
136 Atlantic Avenue
Brooklyn, NY
http://lastexitbar.com/lastexitbar/index.html
Miss Gemini & Ursa Major spin '60s rocksteady, Jamaican R&B '45s, last Saturday of every month.
Soul-A-Go-Go
Satellite Lounge
143 Havemeyer St.,
Williamsburg, Brooklyn, NY
http://www.satellitelounge.net/
With DJs Jumpy & Big Sir. These two spin late '50s and '60s soul and R&B, strictly floor movers.
Discophonic Walk
The Commodore
366 Metropolitian Ave
Williamsburg, Brooklyn, NY 11211
http://www.yelp.com/biz/the-commodore-brooklyn
DJs Phast Phreddie & Girlsoul play Soul, R&B, Organ Jazz, Space Lounge, Garage Rock '45s for dancing. The Commodore also serves soul food.
Tender Trap Thursdays
Tender Trap
245 S. 1st
Williamsburg Brooklyn, NY 11211
http://www.tendertrapbk.com/
DJs Ursula 1000, Brother Daniel and Shane Boogie spins vintage soul, funky psych, bionic boogie, proto-punk glam junk…all on delicious wax! 10pm – no cover.
More at this Facebook page.
Dig Deeper
Littlefield
622 Degraw St.
Brooklyn, NY  11217
Dig Deeper is a monthly soul party in Brooklyn. Live soul music by the original legends. Dancefloor until the wee hours with 45s spun by Mr. Robinson and DJ Honky.
More on this Facebook page.
Love Modculture? If you enjoy what you read or have benefitted from it and want to
help with the ever-increasing costs of the site and newsletter
, you can always
buy me a coffee at Ko-Fi
. Every penny is helpful and appreciated.