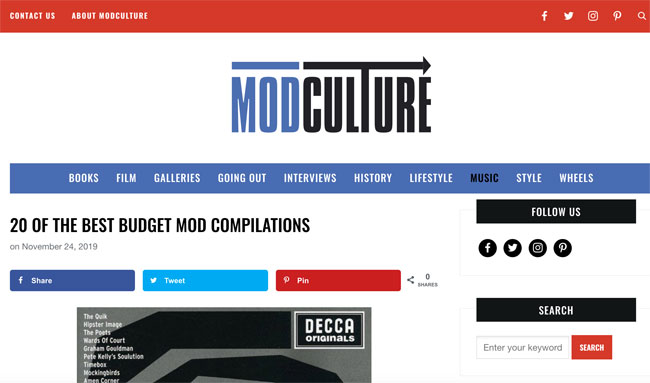 Note that I independently write and research everything in this article. But it may contain affiliate links.
So here it is. 20 years after the site first launched, a new version of the Modculture website is now in place.
Well, when I say new, this is something of an evolution of the last one in terms of the look. The big difference here is the site now being mobile and tablet-friendly. That's how most of you access the site and the site now plays nice with most smart devices.
As it says at the start, the Modculture site is pretty much 20 years old. It launched on February 10th 2000 as Modculture, although it kicked about as Northern Mods for a little while previously, an extension of the 'mailing list' of the same name, which was pretty much one of the first social networks online for mods.
A couple of months back I made the decision to close the site. There were problems with continuing with it. Bringing in a new design, the time spent updating it and the costs associated with it. All still problems right now. I have limited spare time and costs for running this kind of site are constantly going up, which makes it tough balancing the books. That's something I will address in the coming weeks.
I had a considerable amount of positive feedback and as a result, I decided to keep the site going, but with a few differences to the way it has been in the past.
First off, that new design makes it easier to read, which is a plus point. It wasn't easy to do, but we got there in the end with it. But also the content has changed.
Some sections have gone and some of those for good. Others will come back over time. I'm also looking to update existing articles and features, as well as bring some back. Some of the features never made the cut last time I updated almost a decade ago. I still have them and will gradually be returning them to the site.
But the big difference is how the site will work going forward. I want to turn the site into more of a magazine/fanzine online. Fewer features going up, but more substantial articles. From experience, that's what people want. If I see something worthy of a quick piece, I'll add it. But I want to focus more on longer reads than small new items.
Secondly, I want more people involved. A lot of people expressed an interest in helping out when I mentioned it – and that help is now needed. I can write and run the site (that's the easy bit), but it's the content ideas I need off you.
Got an idea for a feature? Get in touch and we can chat about me writing it or chasing up potential interviewees. Likewise, if you have photos (old or new), perhaps an old fanzine with an interesting article you want reprinting or you are working on something of mod interest you want to discuss? Just get in touch. I'd love to talk to you.
What I don't want to do is become an ad board for pretty much everything. Got an event? I don't just want a flyer, I want a chat for a feature on it. People want background, not just a couple of basic facts. The basic details are probably on social media.
Yes, you could stick your photos and articles on Facebook, but you'll have some fleeting views, after which it will be lost in the mix. That's how social networks operate. Content is old in a matter of hours. If it's on here it stays in the public eye for much longer.
I can't feature everything and I don't think you would want me to. The site has survived because I try to pick out the best stuff rather than featuring everything and anything. But if it's interesting I will do my best to get it on the site.
If you want to chat about anything, just get in touch via [email protected]. I'll get back to you as soon as I can.
Finally, one other new development is that the site now has a Pinterest account. Early days, but you can see it here if you want a look. Of course, there is also Facebook, Twitter and Instagram. Links to those on this page.
That's it really. Look out for new articles coming your way soon, as well as plenty of updated features too. But if you can get involved, please do. I can't promise another 20 years – some of the people who made this site what it is are no longer with us, which hammers home the point that none of us knows what's around the corner But hopefully, I'll stick around for a little while longer with your help.
Love Modculture? If you enjoy what you read or have benefitted from it and want to
help with the ever-increasing costs of the site and newsletter
, you can always
buy me a coffee at Ko-Fi
. Every penny is helpful and appreciated.