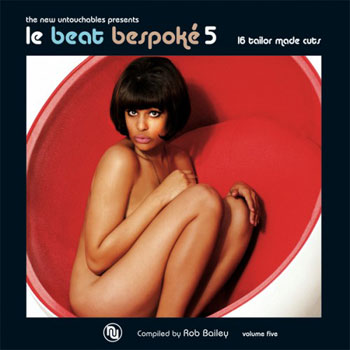 If you are a fan of the New Untouchables' 60s underground grooves, you might be interesting in this latest album release from those same people – Le Beat Bespoke 5.
As the name suggests, this is the 5th volume in the series, available now via Circle Records on CD and vinyl, 16 tracks on the vinyl set, 20 tracks on the CD. We'll have a review online soon enough, but we would guess it's predominantly another collection of dancefloor-friendly garage, psych and beat. If you can't wait for the review, but think you might know the odd tuned by name, the tracklisting for the CD is below.
Both vinyl and CD are priced at £12.99 and available from here.
CD tracklisting:
1. Make Love – Grabbeltons
2. Little Tin Soldier – Billy Joe Young & the Jades
3. Silly Baby – Fun Of It
4. That's the way life goes – The Deep Set
5. A Better Mind – Maximus
6. Sunset Show – Sense Of Humour
7. Giny – The Hush
8. Ahora Ella Se Fue (Now She's Gone) – Los Delphines
9. Turn Out The Lights – Sands of Time
10. Gingerbread Man – Dickie Loader
11. Girl – Simon De Sade
12. Automatic Fly – Early Christian
13. Gentle When You Say The Word – Gary Scruggs
14. I'd Like to Know – Tobias
15. One Fine Morning – James Curtis
16. Y'mouille A Sciaux – La Revolution Francaise
17. The Only Thing- Vince Brittan Jnr
18. Come C'mon – Satin Bells
19. I'm Still A Child – Joy & The Hot Kids
20. Loving You Sometimes – The Outcasts