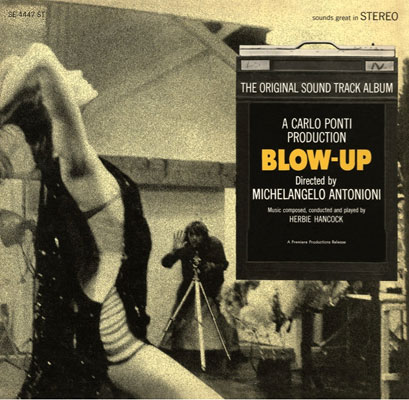 If you are a fan of the swinging sixties classic and more importantly, a fan of the music, you mint want to know about the Blow-Up Soundtrack on 180g vinyl.
Just out, the soundtrack's mix of funky and laid back jazz , the work of Herbie Hancock and crew (along with The Yardbirds' Stroll On), is available  on heavyweight vinyl via the Music On Vinyl label. We're not sure if it's a limited edition, but just in case, you might want to grab one sooner rather than later.
Not cheap though, retailing for £20.17.
Find out more at the Amazon website
Of course, if you want to know more about the movie, we have that on the site too. Check out our review of the film right here for an insight into it. There's also a film location documentary here if you fancy a look at the places featured around London in the mid-1960s.
Tracklisting:
1. Main Title – 'Blow Up'
2. Verushka Part I
3. Verushka Part II
4. The Naked Camera
5. Bring Down The Birds
6. Jane's Theme
7. Stroll On
8. The Thief
9. The Kiss
10. Curiosity
11. Thomas Studies Photos
12. The Bed
13. End Title – 'Blow Up'