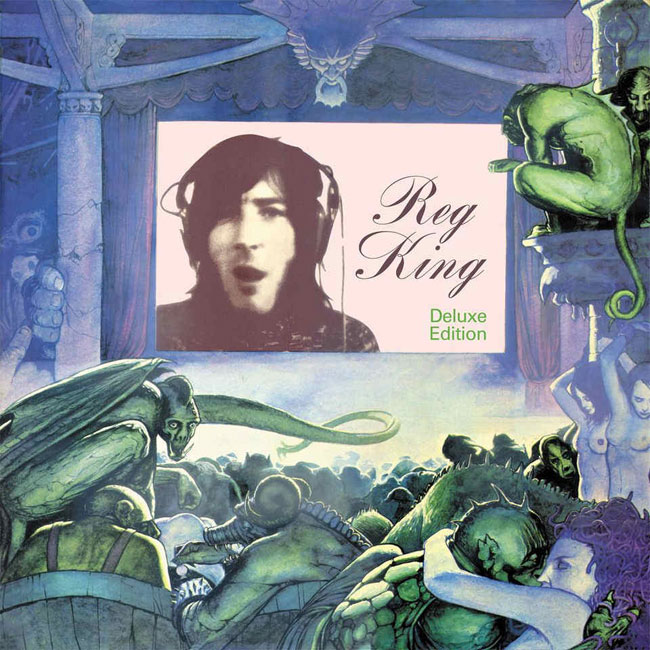 Note that I independently write and research everything in this article. But it may contain affiliate links.
Long deleted both in original and reissue form, the Reg King solo album is back as a three-disc reissue.
The frontman for cult Mod/beat band The Action has has material out in the past. The Looking For A Dream collection from Circle Records, for example, as well as an earlier reissue of this, which is long out of print.
But now it is back, with Cherry Red expanding this ridiculously rare album into a three-disc set. Note that this isn't The Action – although it does feature musicians from The Action and Mighty Baby (the later incarnation). It was released in 1971, and as you know, time moved fast then, as did the musical output of the acts of the 1960s. But it is still a wonderful piece of work.
Of course, it is. It features the voice of Reg/Reggie King, one of the unsung greats of the 1960s. This album showcases both the voice and Reg's own writing talent too.
Disc 1 includes a newly mastered version of the album itself that follows the original United Artists vinyl release track list, including the eight-minutes-plus version of 'Savannah' that has never been on CD before, as well as reinstating the children talking at the end of 'Gone Away'.
It includes the Reg King and B.B. Blunder single 'Little Boy' previously recorded by Reg's old group, The Action. Also featured on Disc 1 is a 'planned but unreleased' second single – an alternative version of 'You Go Have Yourself A Good Time', featuring B.B. Blunder backing Reg rather than Mighty Baby as on the album and the non-album track 'Nobody Knows Where We Are'.
Disc 2 includes earlier 1969 demos where Reg is backed by his former bandmates from The Action and 'bridging sound-wise' The Action's psychedelic 'Rolled Gold' era and Reg's solo album.
Disc 3 features album demos and out-takes, including early 1969 recordings of four album tracks featuring The Action and an out-take of '10,000 Miles', where Reg is backed by Mighty Baby. Yes, there does look to be some crossover with the earlier (and no longer available) Looking For A Dream.
Note also sleeve notes by Lois Wilson drawing on new interviews with guitarist Brian Godding and drummer Roger Powell. A lovely added extra.
It is available from 23rd June on CD only, with the tracks all listed below. It sells for £22.99 and is available to pre-order from Rough Trade.
TRACK LISTING
DISC ONE
Reg King
1 Must Be Something Else Around
2 You Go Have Yourself A Good Time
3 That Ain't Living
4 In My Dreams
5 Little Boy
6 10, 000 Miles
7 Down The Drain
8 Savannah
9 Gone Away
Bonus Tracks
10 Nobody Knows Where We Are (Single Edit)
11 You Go Have Yourself A Good Time (Alternate Version Single Edit) *
DISC TWO
Non-Album Demos
1 Suddenly
2 Let Me See Some Love In Your Eyes
3 You Gotta Believe Me
4 All Up To Heaven
5 Picking Up Nancy's Grin
6 In And Out
7 Put Something Together
8 Live Forever
9 Thinkin' Bout Getting Out (Long Version)
10 Merry Go Round
11 So Full Of Love
12 Magenta (Long Version) *
13 You'll Be Around (Long Version) *
14 Get Up, Get Away
15 They Must Be Talking 'Bout Me
16 Thinkin' 'Bout Getting Out (Edit) *
DISC THREE
Album Demos and Outtakes
1 Must Be Something Else Around (Early Version)
2 You Go Have Yourself A Good Time (Early Version)
3 10,000 Miles (Early Version)
4 Down The Drain (Early Version) *
5 Must Be Something Else Around (Guide Vocal)
6 Must Be Something Else Around (Rough Mix)
7 You Go Have Yourself A Good Time (Long Alternate Version)
8 10,000 Miles (Mighty Baby Version)
9 Down The Drain (Demo)
10 Savannah (Long Version)
11 Gone Away (Rough Mix)
12 Nobody Knows Where We Are (Long Version)
13 Instrumental *
* Previously Unreleased
Love Modculture? If you enjoy what you read or have benefitted from it and want to
help with the ever-increasing costs of the site and newsletter
, you can always
buy me a coffee at Ko-Fi
. Every penny is helpful and appreciated.