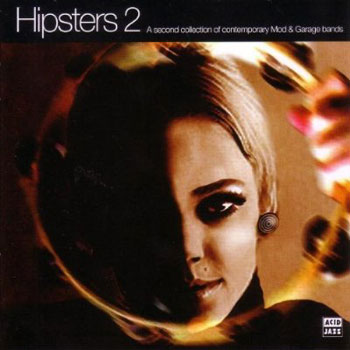 Note that I independently write and research everything in this article. But it may contain affiliate links.
It's an interesting time for Acid Jazz to be releasing Hipsters 2 as we seem to be at something of a crossroads when it comes to 'mod' bands. Bands have always been part of the mod scene, whether that was British acts reinterpreting soul and R&B tunes in the 60s or bands formed by kids who were part of the mod revival in the late 70s and into the 80s.
But in the recent past, the shadow of Paul Weller, that previous mod revival and all too often, the Small Faces, has loomed large, leaving a scene that on the one hand, is about crate digging for rare soul and R&B, dancing to said tunes and spending big on clobber, but on the other, has mod bands consisting of blokes in their 30s and 40s with Paul Weller hairdos re-hashing All Or Nothing (no offence intended to anyone, by the way).
Thankfully, that seems to be changing. Maybe it's because some people forming bands today weren't even born when the mod revival took place and perhaps it's because the internet has made it easy to dig deeper and take in a wider range of influences. Both of those things (and more) could be behind an increase in bands that are influenced by the past, but have a sound of their own. It means, for the first time in a long time, there are mod-friendly bands who are well worth checking out and getting excited about.
Which brings us back to Hipsters 2. Acid Jazz, to its credit, has cast the net wide for its latest compilation. Some of the bands featured are certainly of that old school, others seem to be more what I'd describe as 'now', while one is very much from mod's past. Want some detail? Read on…
Kicking things off is The Method, a band we have raved about in the past and here with 'we Don't Know' (which I think I called a garaged-up B-52s in the album review), followed up by a pretty decent reworking of Bo Diddley's 'Who Do You Love' by Slimshack. But the third track on the album is perhaps the most intriguing, a new version of 'That's All I Need' by The Birds. You might have seen the band perform it in low budget 60s horror The Deadly Bees, but it was never actually committed to vinyl 'back in the day'. So here we have a recording with original vocalist Ali MacKenzie, using an all-new backing band (no Ronnie Wood here sadly). It's not bad. Great vocal, but it just sounds a little too polished and pedestrian to me. Well worth a listen though and certainly a big selling point.
For me, highlights include The Broken Vinyl Club's 'I Want You Girl' with its Dylan-esque vocal and mid-60s groove (another See Monkey Do Monkey band, one of the best labels around right now for new bands), the excellent Galileo 7 with the psychy Orangery Lane, The Sonic Jewels' Joker's Jailhouse (which puts me in mind of The Prisoners) and the rather excellent and extremely catchy 'Day Trippin" by Aunt Nelly, a band featuring ex-members of The Clique, if you remember them. Quite liking The Effectives' 'When The Wind Blows' too – fairly typical powerpop, but very well done.
You can probably file under 'interesting' the likes of The Solomonics' 'Blanket of Secrecy', The Crackles' 'Switch It On' and Dig For Victory's 'Feel The Fire', none of which are obviously mod sounds. But all bring some much-appreciated variety to the party.
Decent offerings too from Speakeasy with the garage rock-like 'Your Precious Ways', The Feelmores' 'Feeling and Modus with 'Watch Out', although none of those three blow me away to be honest. Likewise The Soulphonics featuring Ruby Bell doing 'Heartlite'. It's not a bad modern take on a vintage soul sound, but there are better bands out there doing it.
I did say mixed bag and there are a couple of tracks I could happily pass on. Bay Of Pigs' take on 'Tainted Love' is a bit too mainstream rock for my taste and The Universal's Stand Up tries far too hard to sound like Paul Weller. If I want that, I'll invest in some Weller.
So no, this album isn't packed wall-to-wall with tracks I love, but it was never likely to be. Compilations like this very rarely have a 100 per cent success rate with a listener. But it is an interesting album with a pretty decent hit rate that showcases a number of bands well worth keeping an eye on. If you want to know what's going on with mod bands right now, check it out – and check out the new bands section on this site.
Find out more about the CD at the Amazon website
Love Modculture? If you enjoy what you read or have benefitted from it and want to help with the ever-increasing costs of the site, you can always buy me a coffee.