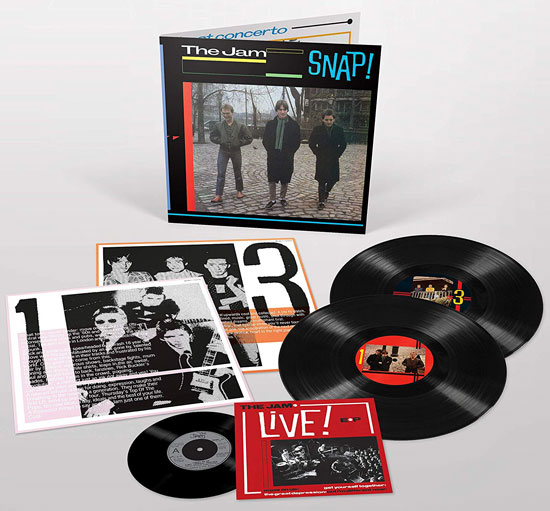 Just in case you have lost or damaged your old copy, Snap! by The Jam is getting a heavyweight vinyl reissue, having been remastered at Abbey Road.
Originally released in 1983, Snap! was the first 'greatest hits' collection from The Jam and appeared just after Paul Weller spot the band ahead of starting up the Style Council.
This is a reissue of the original 29-track album with chronological sequencing, from In The City through to Beat Surrender and featuring 16 top-30 singles including 4 number ones. Not bad going for such a short-lived band.
As you would expect, the gatefold sleeve is here and the original artwork, along with printed inner sleeves and the original 'free' live 7" EP.
The heavyweight vinyl has been remastered at Abbey Road and this is the first time it has been offered on vinyl for many years. Perhaps because most people bought it back in the 1980s. One added extra is a download card, so you can enjoy everything digitally as well as on the vinyl
Track listing below and the release date is 25th October 2019. You can pre-order now for £23.38.
Find out more at the Amazon website
Tracks:
7″ – Side A
Move On Up (Live)
Get Yourself Together (Live)
7″ – Side B
The Great Depression (Live)
But I'm Different Now (Live)
LP1 – Side A
In The City
Away From The Numbers
All Around The World
The Modern World
News Of The World
Billy Hunt
English Rose
Mr Clean
LP1 – Side B
David Watts
A' Bomb In Wardour St
Down In The Tube Station At Midnight
Strange Town
The Butterfly Collector
When You're Young
Smithers-Jones
Thick As Thieves
LP2 – Side A
The Eton Rifles
Going Underground
Dreams Of Children
That's Entertainment
Start!
Man In The Corner Shop
Funeral Pyre
LP2 – Side B
Absolute Beginners
Tales From The Riverbank
Town Called Malice
Precious
The Bitterest Pill (I Ever Had To Swallow)
Beat Surrender