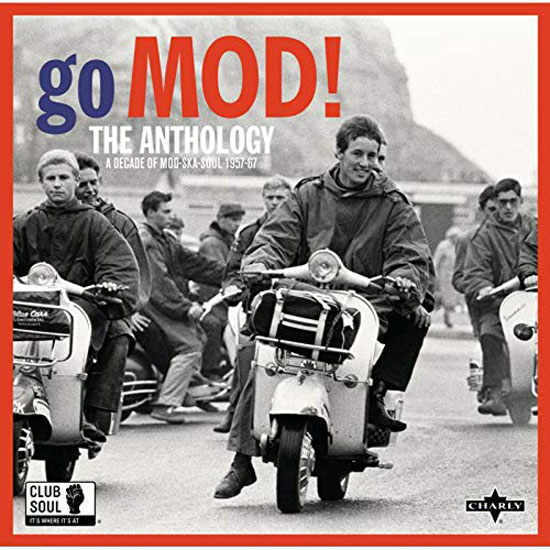 Available to order now, the upcoming Go Mod! heavyweight vinyl set by Charly Records is an overview of the original mod era.
From that, you can guess that we are talking less 'crate digging' and more mod classics. Ok, perhaps not the obvious classics, but tunes at that end of the range.
According to Charly, this is music from 'the decade that defined the sound of mod', which is down as 157 through to 1967.
This new 180g heavyweight audiophile vinyl set, which is part of the label's Club Soul series, features 32 tracks remastered from analogue tape and original vinyl, with artwork featuring original mod memorabilia and packaging in a 'lavish' gatefold sleeve.
The track listing is below, although I suspect you have probably made up your mind whether you want Go Mod! in your collection already. If you do, pre-orders are up now ahead of the 27th September 2019 release date, priced at £22.99.
Find out more about the vinyl set at the Amazon website
Track listing:
Disc: 1
1. Ray Charles "Hit The Road Jack" ( 01:57 )
2. James Brown & The Famous Flames "Night Train" ( 03:32 )
3. The Rinkydinks "Hot Potato – Part 1"
4. Titus Turner "Soulville"
5. Little Eva "The Loco-motion" ( 02:27 )
6. The Isley Brothers "Twist And Shout" ( 02:36 )
7. Wilbert Harrison "Let's Stick Together" ( 02:45 )
8. Richard Berry & The Pharaohs "Louie, Louie" ( 02:11 )
Disc: 2
1. Ike & Tina Turner "A Fool In Love" ( 02:37 )
2. Mel Torme "Comin' Home Baby" ( 02:44 )
3. Chris Kenner "Land Of 1000 Dances" ( 02:49 )
4. Derrick Morgan "Forward March"
5. Booker T & The MG's "Green Onions" ( 02:54 )
6. John Lee Hooker "Dimples" ( 02:11 )
7. Slim Harpo "I Got Love If You Want" ( 02:47 )
8. Gene Chandler "Duke Of Earl" ( 02:25 )
Disc: 3
1. The C.O.D.'s "Michael" ( 02:43 )
2. Alvin Cash & The Crawlers "Twine Time" ( 02:20 )
3. The Ad Libs "The Boy From New York City" ( 03:07 )
4. Alvin Robinson "Searchin' " ( 02:38 )
5. The Crystals "He's A Rebel" ( 02:25 )
6. Desmond Dekker & The Aces "007 (Shanty Town)" ( 02:40 )
7. The Folkes Brothers "Oh Carolina" ( 02:40 )
8. Derrick & Patsy "Housewife's Choice" ( 02:40 )
Disc: 4
1. Robert Parker "Barefootin' " ( 02:33 )
2. The Peels "Time Marches On"
3. Lee Dorsey "Ride Your Pony" ( 02:57 )
4. Little Hank "Mister Bang Bang Man (2018 Remaster)" ( 02:38 )
5. Chris Farlowe & The Thunderbirds "Buzz With The Fuzz" ( 02:32 )
6. The Mar-kays "Last Night" ( 02:38 )
7. The Dixie Cups "Iko, Iko" ( 02:04 )
8. Dr Horse "Jack, That Cat Was Clean" ( 03:29 )