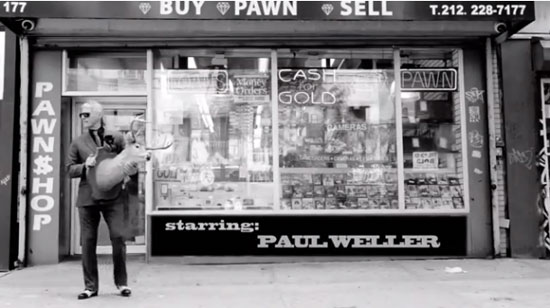 I didn't know much about John Varvatos until I went to New York and looked for CBGB – it's now one of his stores. Anyway, now the label has pulled in Paul Weller and Miles Kane for a new ad campaign.
The campaign video is below, but there's also a print campaign, likely to be seen in US magazines, both caught outside a pawn shop in Manhattan's Lower East Side, with the entire thing aimed at created something with a 1960s vibe.
'The images we shot were inspired by some of the early post-Mod portraits of Paul, as well as classic portraits from the British music scene of that time,' said Stephen Niedzweicki, creative director of Yard and Varvatos collaborator. 'By bringing together a veteran musician with another who's just getting started, we were able to look both forward and back and introduce a whole new dynamic.'
The track is That Dangerous Age off Weller's Sonik Kicks album (if you didn't know).
John Varvatos added: 'These images show a kind of passing of the musical torch, and you can see the influence that Paul — a fashion and musical icon — has had on Miles Kane, an up-and-comer to be reckoned with. These two Mod men dressed to the nines provide such a spectacular contrast to their surroundings.'
Source: Billboard