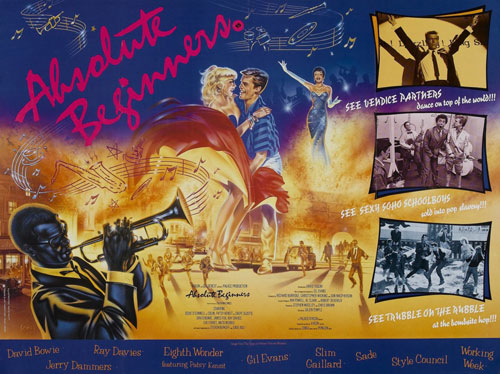 Note that I independently write and research everything in this article. But it may contain affiliate links.
Like many, I was disappointed with it at the time. But I have gone back to the Absolute Beginners movie for a second opinion.
Absolute Beginners – it was the film franchise that couldn't fail. A cult novel that reads like a film screenplay, a 'hip' director and a bag load of goodwill. But it did fail – and unlike most movies that get ripped apart by the critics, this one didn't even get belated cult status.
But is it really so bad? Well…
I was one of the people willing this to work. As a schoolkid, I was obsessed with this book, I can still quote chunks of it now. And I really hated this movie version when it came out. Director Julien Temple wasn't a movie man, he was from a music and music video background – and took the brave/foolish decision to turn Absolute Beginners into a musical.
In fact, watching it now it seems more like a traditional West End show. There's was another problem too – it was the 1980s.
Ok, that's not necessarily a bad thing, but this film has 80s stamped all over it – the hair, the music, the clothing – it was all supposed to be set in the late 50s, but Temple just couldn't pull off that vintage/period feel. A more skilled director probably could. And a more skilled director probably would have ditched much of the music, as well as the wooden leads (Patsy Kensit and Eddie O'Connell).
But time is a great healer and I've decided to re-watch Absolute Beginners. And you know what? It's not quite as bad as I remember. Although it is still far from a classic.
The good points include James Fox's ability to keep a straight face as Henley the old school fashion designer, Bowie's theme tune (arguably his last decent 'pop' song) and a 'plot' that stays relatively faithful to the book, even if it does miss out a many of the better parts.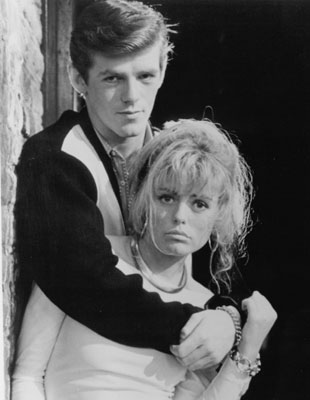 The downsides are still those leads (Patsy Kensit really does hog the limelight – the role of Suzette is fairly minor in the book), the wooden stage-style sets, the lack of any real detail (Colin was an early Mod, not the poor man's James Dean seen on screen), the stunted dialogue taken 'word for word' from the book and above all, the need to turn what's essentially a dark, downbeat but ultimately positive book into something bold, colourful and vacuous.
Yet despite all this, Absolute Beginners is still an entertaining watch. It's no classic, it's not even a cult classic, but it's still a fascinating film – even if a good amount of it makes you cringe.
Update: An Absolute Beginners 30th anniversary Blu-ray is now available to order at Amazon
Love Modculture? If you enjoy what you read or have benefitted from it and want to support the growing costs of the site, you can always become a website supporter.