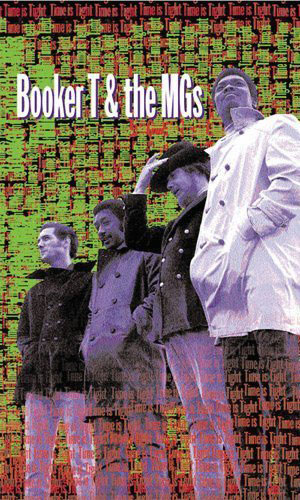 Note that I independently write and research everything in this article. But it may contain affiliate links.
This week, Universal Music are finally giving a UK release to the Booker T. & The MGs three-disc, 65 song box set, Time Is Tight. Mick Mulligan checks is out.
Originally released on the Stax imprint by Concord (a label usually associated with Jazz) in the US in 1998, import copies are available online for just shy of £60. Thankfully, the UK version comes in at under £30.
Disc one covers the sky blue label Stax era singles starting with (mod national anthem) 1962's 'Green Onions'. Pretty much a greatest hits set after that, highlights including 'Jelly Bread', 'Bootleg', 'Outrage', 'Hip Hug Her' and a cover of Billy Larkin & The Delegates 'Pigmy'.
Disc two starts with an alternative take of 1968's 'Soul Limbo' and covers most of the hits and b-sides from the yellow label/finger clickin' Stax era. Also included is the Beatles medley from 1970's 'McLemore Avenue' album, the band's note-for-note Memphis take on 'Abbey Road'. Not for the purist mod perhaps but it demonstrates that the band were still pushing, exploring and stretching the boundaries of the guitar/bass/drums/organ combination without straying into jazz territory.
Disc three wraps up the early '70s singles, with some live recordings, including a James Brown medley from 1968. Perhaps inevitably, quality is stretched towards the end of this set that includes guest vocalist appearances from Albert King ('Born Under A Bad Sign'), Boz Scaggs ('I've Been Lovin' You Too Long (To Stop Now)') and Neil Young ('(Sittin' On) The Dock Of The Bay)'.
The whole set was put together (and has sleevenotes by) Bill Belmont and Rob Bowman (the latter won the 1996 Best Album Notes Grammy for his 47,000-word 'booklet' accompanying the 10-CD boxed set The Complete Stax/Volt Soul Singles, Vol. 3: 1972-1975, so he knows his onions…).
Perhaps this is best suited to the Stax completist or Mojo reading musicoligist. There are better and cheaper introductions to the band, particularly if you just want the hits. The 5CD, 58-track 'Original Album Series' set from Rhino is currently on Amazon for less than £11 and is highly recommended, though the discs come in card slipcases and there are no sleevenotes.
You pay your money, you make your choice.
Find out more at the Amazon website
Mick Mulligan
Time Is Tight tracklisting:
CD1
1. Green Onions – Single Version
2. Behave Yourself
3. Jelly Bread
4. Home Grown
5. Burnt Biscuits
6. Chinese Checkers
7. Mo' Onions
8. Tic Tac Toe
9. Fannie Mae
10. Soul Dressing
11. Can't Be Still
12. Boot Leg
13. Outrage
14. Be My Lady
15. My Sweet Potato
16. Hip Hug Her
17. Summertime
18. Slim Jenkins' Place
19. Groovin'
20. Soul Sanction
21. Pigmy
22. Booker's Notion
23. I Can Dig It
24. Expressway (To Your Heart)
25. You Don't Love Me
26. Never My Love
27. Blue On Green
28. Ode To Billie Joe
CD 2
1. Soul Limbo
2. Heads Or Tails
3. Be Young, Be Foolish, Be Happy
4. Hang 'Em High
5. Willow Weep For Me
6. Over Easy
7. Time Is Tight
8. Johnny I Love You
9. Lady Madonna
10. Mrs. Robinson
11. Soul Clap '69
12. I've Never Found a Girl (To Love Me Like You Do)
13. You're All I Need To Get By
14. It's Your Thing
15. Something
16. Sunday Sermon
17. McLemore Avenue – Radio Promo
18. Sun King/Mean Mr. Mustard/Polythene/Pam/She Came In Through The Bathroom Window/I Want You (She's So Heavy) – Album Version
19. Chicken Pox
20. Melting Pot
CD3
1.Gotta Serve Somebody
2.Lay Lady Lay
3.MG Party
4.Terrible Thing
5.Hole In The Wall
6.(Sittin' On) The Dock of the Bay
7.Booker's Theme
8.Albert's Rap
9.Born Under A Bad Sign (featuring Albert King)
10.Medley: I'm With You / I Don't Mind / Oh, Baby Don't You Weep
11.Meditation
12.Green Onions – Live
13.Sarasota Sunset – Live
14.I've Been Loving You Too Long (To Stop Now) – Live (featuring Boz Scaggs)
15.Hang 'Em High
16.Time Is Tight
17.(Sittin' On) The Dock of the Bay (featuring Neil Young)
Love Modculture? If you enjoy what you read or have benefitted from it and want to help with the ever-increasing costs of the site, you can always buy me a coffee.