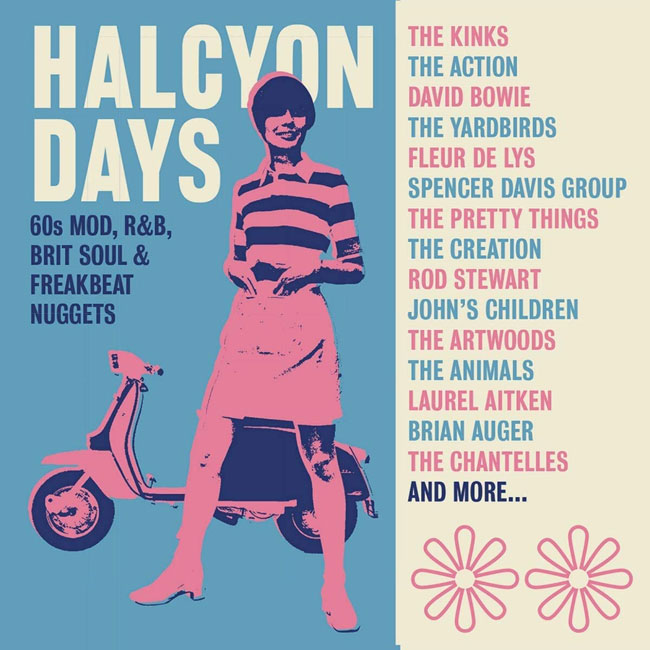 This looks a winner. The Halcyon Days 60s Mod, R&B, Brit Soul and Freakbeat box set, which is available to pre-order.
A CD box set, which might disappoint vinyl enthusiasts. But one that is worth checking out over its three discs. Cherry Red has a strong track record when it comes to these kind of box sets.
This particular box is on the new Strawberry imprint, which is pretty much the successor of the RPM label, with the new box following on from the likes of Looking Back, Keep Lookin', Looking Stateside and Night Comes Down, all of which are Mod compilations that are well worth checking out and owning.
If you own those, have a look at this one, which charts the development of Mod-friendly beat music across three CDs from the jazzy R&B of Chris Farlowe, Duffy Power with Graham Bond and Zoot Money that opens disc one through 'horn-laden' Brit soul from Jimmy James, Geno Washington and The Richard Kent Style, ska from Mickey Finn & The Blue Men, girl-group pop from The Chantelles and freakbeat from The Pretty Things and The Worrying Kynde. On disc three the influence of psychedelia also appears courtesy of Jason Crest, July and Dantalian's Chariot.
Other acts featured in this collection include The Animals, The Yardbirds, The Kinks, The Pretty Things, The Creation, The Action, The Artwoods, John's Children, The Spencer Davis Group, Brian Auger & The Trinity and The Fleur De Lys.
On top of that, there are early singles from David Bowie and Rod Stewart plus a host of other big names who went on to success in the rock arena but cut their teeth playing more Mod-friendly grooves. The likes of Jimmy Page, Jeff Beck, Steve Howe, Greg Lake, Mick Fleetwood and Jon Lord to name just a few.
Producer Mike Hurst also opens his archives allowing for the inclusion of freakbeat nuggets from The Australian Playboys, The Human Instinct, The Favourite Sons, Double Feature and The Oscar Bicycle plus orchestrated pop gems from the soulful Truly Smith, psychedelic The Alan Bown!, Swedish mods The Tages and singing twins Paul & Barry Ryan.
First time on CD rarities include material from The Athenians, The Fingers, The Candy Dates, Barney J. Barnes & The Intro, Kevin 'King' Lear, Dorian Gray, Barry St. John, Ray French, Laris McLennon and Sleepy plus there are previously unissued recordings by The SW4, The Union and The Trendbender Band.
A booklet too, with a track by track annotation and rare pictures including gig posters, sheet music and band photos. Check out the tracks below and if you want to pre-order, the three-disc box is available to pre-order now ahead of the 4th December release date for £23.99.
Find out more about the box set at the Amazon website
Track List:
DISC ONE:
1. BUZZ WITH THE FUZZ – Chris Farlowe & The Thunderbirds
2. WHAT'D I SAY – Duffy Power with The Graham Bond Quartet
3. BIG TIME OPERATOR – Zoot Money's Big Roll Band
4. DON'T BRING ME DOWN – The Animals
5. SHAKE – Rod Stewart
6. LITTLE BITTY PRETTY ONE – Ronnie Jones
7. I FEEL ALRIGHT – Jimmy James & The Vagabonds
8. JUST A LITTLE MISUNDERSTANDING – The Richard Kent Style
9. NUMBER ONE – The Stormsville Shakers
10. SEE SAW – The Union *
11. HARLEM SHUFFLE – The Mike Cotton Sound
12. I CAN'T STAND IT – The Athenians
13. ALL I NEED – Geno Washington & The Ram Jam Band
14. I'VE BEEN WEEPING AND CRYING – Laurel Aitken
15. TRY ME – Laris McLennon
16. WELL I DO – The Candy Dates
17. SHAME, SHAME, SHAME – The SW4 *
18. I LOVE THE WAY YOU WALK – Tony Rivers & The Castaways
19. LOOK AWAY – The Fingers
20. HUSH YOUR MOUTH – Mickey Finn & The Blue Men
21. EVERYTIME I DO – Rupert & The Red Devils
22. LOOKING FOR MY BABY (SKA BEAT VERSION) – Laurel Aitken
23. CAN'T STAND THE PAIN – Barney J. Barnes & The Intro
24. WATERMELON MAN – The Mark Wirtz Orchestra & Chorus
25. BABY NEVER SAY GOODBYE – The Bo Street Runners
26. (YOU GOT) THE POWER OF LOVE – Kevin 'King' Lear
27. GONNA GET BURNED – The Chantelles
28. GOTTA BRAND NEW MAN – Barry St. John
29. STUPIDITY – The Trendbender Band *
DISC TWO:
1. BIFF, BANG, POW – The Creation
2. SHE'S GOT EVERYTHING (MONO SINGLE MIX) – The Kinks
3. DO ANYTHING YOU SAY – David Bowie
4. I TAKE WHAT I WANT – The Artwoods
5. BUZZ THE JERK – The Pretty Things
6. BO STREET RUNNER (SINGLE VERSION) – The Bo Street Runners
7. STROLL ON – The Yardbirds
8. WALTZ FOR A PIG – The Graham Bond Organisation (A.K.A. The Who Orchestra)
9. TIGER – Brian Auger & The Trinity
10. MR. PEARLY – Kevin 'King' Lear
11. GET GOIN' BABY – Dorian Gray
12. LEAVIN' HERE – The Favourite Sons
13. COME ON GO (DEMO) – Force Four
14. GLORIA'S DREAM (SINGLE MIX) – Belfast Gypsies
15. REMEMBER THOMAS À BECKET – John's Children
16. WHY – The End
17. GIMME LITTLE SIGN – Rainbow Ffolly
18. NO PROBLEM – Phillip Goodhand-Tait & The Stormsville Shakers
19. MAKIN' MY MIND UP – Katch 22
20. COME ON BABY – Double Feature
21. HE CAN WIN – The Moody Blues
22. AM I GLAD TO SEE YOU – The In Crowd
23. DIGGIN' FOR GOLD – David John & The Mood
24. I'M NOT A BAD GUY – Heinz
25. GOT THE BLAME – The Worrying Kynde
26. YOU'VE GOT SOMETHING – Paul's Troubles
27. WALKING DOWN A BACKSTREET – Dorian Gray
28. GUN ME DOWN – Ray French
29. SHE'S DANGEROUS – The Secrets
30. GREEN DOOR (MONO SINGLE MIX) – Wynder K. Frog
DISC THREE:
1. HALCYON DAYS – The Tages
2. LOOK AT THE VIEW – The Action
3. ONE GIRL CITY – Fleur De Lys
4. I'M A MAN – The Web
5. MOONSHINE (STEREO) – The Spencer Davis Group
6. MRS. BAILEY'S BARBECUE AND GRILL – Sleepy
7. HOLD ON – Jason Crest
8. BABY GET YOUR HEAD SCREWED ON – Double Feature
9. THE ROOM REVOLVES AROUND ME – The Oscar Bicycle
10. DREAMS DON'T BOTHER ME – The Shame
11. TECHNICOLOUR DREAM (MONO SINGLE MIX) – The Alan Bown!
12. THIS IS THE FIRST TIME – Truly Smith
13. KEEP IT OUT OF SIGHT – Paul & Barry Ryan
14. YOUR WAY TO TELL ME – Plastic Penny
15. THE STAMPING MACHINE (DEMO) – July
16. SAD – The Australian Playboys
17. PINK DAWN – The Human Instinct
18. BABY YOU'RE NOT TO BLAME – Plastic Penny
19. FOOL FROM UPPER EDEN – Andy Ellison
20. 53 SUMMER STREET – Turquoise
21. YES – Grapefruit
22. FOURPENNY BUS RIDE – Dantalian's Chariot
23. DOCTOR ROCK (SINGLE MIX) – Apple
24. PEOPLE! LET'S FREAK OUT (SINGLE MIX) – The Freaks Of Nature (Alias Belfast Gypsies)
25. ENGINE 4444 – Quiet Melon
26. PICTURE OF HER – The Spencer Davis Group
27. I'M COMING 'ROUND (TO HER WAY OF THINKING) – Kris Ife
28. REST CURE – The Crazy World Of Arthur Brown