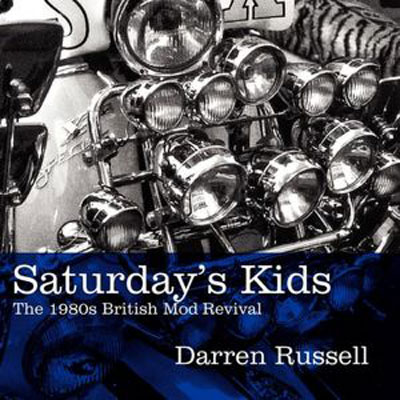 It has been talked about for years, but Saturday's Kids: The 1980s British Mod Revival by Darren Russell has finally sneaked out, almost unnoticed.
I had an email conversation with the man behind the book a few years ago, which indicated that the book would be of a much higher quality than your average photo book, something like a high end art book if you like, with a price of £170 quoted for a hand-bound edition at the time by the publisher.
In the end, it looks like that approach might have been abandoned. On the plus side, that does mean a price in line with other mod books on the market, which should mean more sales.
But this one does still have a significant selling point. Darren Russell got out and about with his camera in the early 1980s, capturing the earlier years of the mod revival in southern England. Photos that 'capture the style, attitude and innocence of youth in a scene organised by those who participated and which was totally driven from within.'
Darren's photos are also largely unseen. Not just of the people within that scene, but with images of Paul Weller in his Jam days, along with other bands, for example. That's likely to be a big selling point. There are also a few words, with a foreword by Dave Edwards, plus other articles by Mick Wheeler, Bernadine Wood, Peter Jachimiak (who was kind enough to flag up this release) and Gary Wood.
I've checked the Foruli site and can't find a limited edition art version there right now, so the 158-page paperback version now available widely seems to be the only version out there. If you want it, Amazon is selling the book now for £14.99 – you can also browse a few of the pages on that site too.
Find out more at the Amazon website