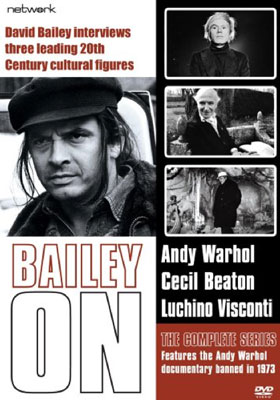 Note that I independently write and research everything in this article. But it may contain affiliate links.
According to the particularly stern introduction, Bailey on Warhol is 'an attempt to capture the spirit of Warhol using some of the techniques he has pioneered and several stills of his most famous work.' Pretty good summing up I'd say.
Bailey on Warhol uses a slightly leftfield, slightly irritating documentary format – acquaintances come and go, each with a tale, a party piece, an opinion or an anecdote, all cut up with some Warhol words from a Warhol clone under coloured light, not to mention an occasional glimpse of David Bailey himself. Yes, the words are often pretentious, usually sycophantic and now again, almost certainly an escalation of the truth for effect, but let's be honest, this is the art world. What do you expect?
When Warhol does initially 'speak' to Bailey in a one-to-one interview, he has one of his hangers-on answering the questions, Warhol lip-syncing just after the answer. Annoying? You bet. Thankfully, Warhol does eventually speak his own words and when he does, it's actually quite interesting – coming across as shy, slightly evasive, but surprisingly honest kind of guy. You even get to see Warhol in bed with David Bailey. All in the name of art obviously.
Which leaves something of a mixed bag, but a mixed bag with plenty of appeal if you are a fan of Warhol. Aside from the words, there's also a lot to enjoy visually – the artwork, the occasional movie snippet and some work in progress at The Factory for example. All of which makes it a pretty valuable document – but only if you're a Warhol fan.
If you don't happen to love the world's most famous pop artist, maybe the extra Bailey documentaries will float your boat? For me, they're every bit as interesting – the first probably more so.
Beaton by Bailey is, as you might have guessed, Cecil Beaton being caught on camera (video and stills) by David Bailey. A marriage made in heaven you could say as the old guard meets with the 60s upstart – Beaton's slightly camp tones reciting his life and his work, while the camera also follows Beaton to the gentlemen's outfitters (possibly a mod before mod existed) as well as showing the man at work.
Some nice talking head segments too, in particular from Twiggy, Justin de Villeneuve, Jean Shrimpton, Mick Jagger, Brian Duffy, David Hockney and Truman Capote. And if you want to see Beaton's snaps, there's plenty of those peppering the film too. Fascinating stuff.
Count Luchino Visconti of Mondrone might not be a name familiar to you, unless you're a fan of the big screen. One of the giants of Italian cinema, Bailey caught up with him for the final documentary on this disc just after the director had made Death in Venice, which features prominently in discussion. While it's certainly going to be of interest to world cinema buffs, this particular documentary is pretty tough going for those who aren't, although, like Visconti's movies, it is very appealing on the eye. You might even be tempted to invest in Visconti's back catalogue after seeing some of the snippets on show here. Or maybe not.
Three interesting documentaries on three giants of the arts, but it's hard to recommend it unless you have an interest in at least one of them. If you do, you'll find much to enjoy.
Find out more at the Amazon website
Love Modculture? If you enjoy what you read or have benefitted from it and want to support the growing costs of the site, you can always become a website supporter.