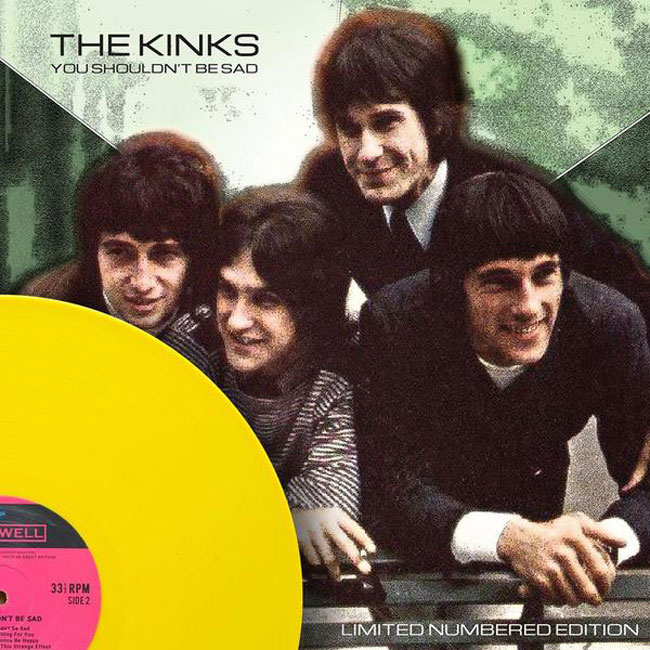 I do wonder about the audio quality on this one, but The Kinks – You Shouldn't Be Sad vinyl album is likely to be of interest.
I'm talking about the quality and these are live/session tracks from the mid-1960s on a small label. Obsessives might want to add their own views as I suspect the music here is in the public domain. Just not on the vinyl album format you see here.
Actually, you are talking about two formats. There is a numbered version on yellow vinyl (limited to 155 units) and a blue vinyl for the same price and not numbered or limited as far as I can see. Different covers (in terms of colour) but the same tracks on both.
That's pretty much it really. There does seem to be a 'thing' about Kinks vinyl right now. You might recall The Kinks – Live In San Francisco 1969 from just a few months back.
In terms of this one, the tracks are listed below and the release date is 17th July 2020. £23.99 is the price.
Find out more at the Rough Trade website
Tracks:
Side One:
1. Little Queenie
2. Cadillac
3. You Really Got Me
4. I'm A Lover Not A Fighter
5. You Really Got Me
6. All Day And All Of The Night
7. I'm A Lover Not A Fighter
8. I've Got That Feeling
9. All Day And All Of The Night
Side Two:
1. You Shouldn't Be Sad
2. Tired Of Waiting For You
3. Ev'rybody's Gonna Be Happy
4. Hide And Seek
5. This Strange Effect
6. See My Friends
7. Never Met A Girl Like You Before
8. Milk Cow Blues
9. Got My Feet On The Ground
10. Wonder Where My Baby Is Tonight
1/1 1/2 1/3 – The Saturday Club, Playhouse Theatre London, 7th April 1964 1/4 1/5 – 1/6 Top Gear, Playhouse Theatre London, 30th October 1964 1/7 1/8 1/9 – The Saturday Club, Piccadilly Theatre Studios London, 9th December 1964 • 2/1 2/2 2/3 – The Saturday Club, Maida Vale Studios London, 20th April 1965 2/4 2/5 2/6 – Aeolian Hall Studio One London, 6th August 1965 2/7 2/8 2/9 2/10 – Saturday Club, Playhouse Theatre London, 10th August 1965