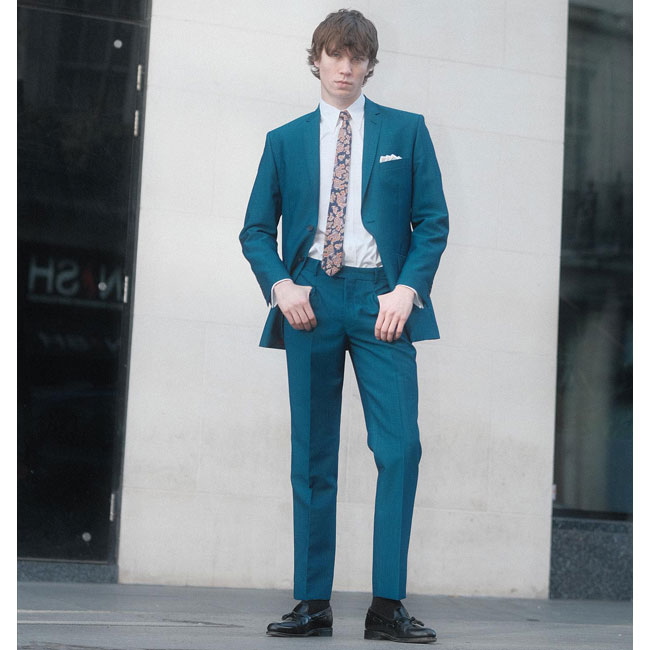 Note that I independently write and research everything in this article. But it may contain affiliate links.
It used to be tough finding something off-the-peg and formal. But a ready-made Mod suit could now be just a click away.
Not that you have to shop online. In fact, if you can visit a store, all the better. There are 'bricks and mortar' makers and sellers who will happily show you their latest designs. But if you like the idea of browsing first, then the internet is here to help.
It wasn't always this easy. In fact, not that many years ago, finding something ready-made that didn't look cheap and cheerful was a tough call. But at that point in time, it wasn't as much of an issue. Many tailors (and a good number who were working or training in the 1960s) were still around to create something that wasn't out of your price range.
Why the change? Well, I would say in the last 15 to 20 years, many of those tailors have disappeared. In the 1960s, tailors were everywhere – even operating in chains across different towns and cities. But the ready-made revolution resulted in less demand and fewer accessible outlets.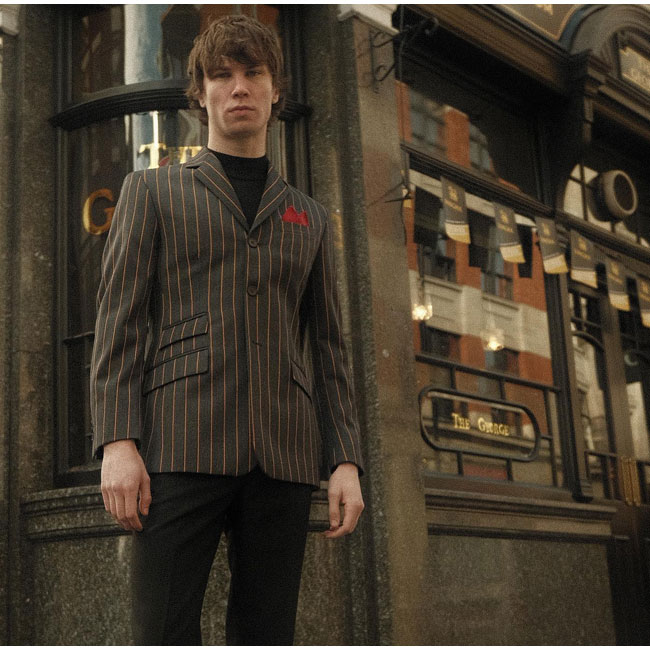 Town centre tailoring today is a dying art, and as many tailors have retired and closed down their small premises, there hasn't been an influx of newly-trained tailors to replace them. The world has changed, and tailoring isn't necessarily a profitable industry in an age of fast-moving, mass-produced fashion. It's also a long path as a trainee and, initially, not necessarily a lucrative one.
Of course, there are some younger tailors coming through and doing well. I have interviewed (and personally used) the wonderful Cock of the Walk tailors in Hull. But if you go here or to any similar tailor, you will need to be prepared to invest both time and money into your bespoke suit. Because you will need both to get something very special and personal to you.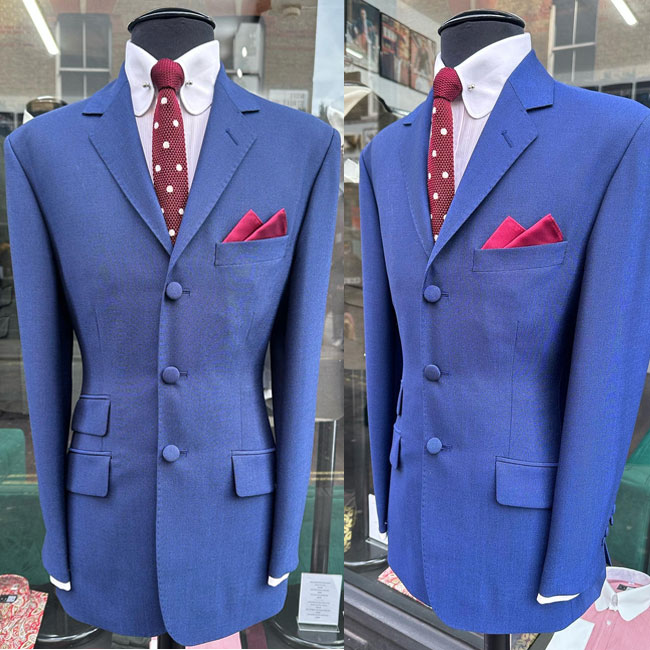 Right now, the high street really doesn't really cater for anything other than the fashionable 'estate agent' suit these days. You know the ones. Very tight, jacket too short, trousers a little too low (above and below) and yes, strictly two-button. There are varying degrees of the look, but it is the look of 'now' and, in terms of a Mod look, not really on the same planet.
Which is where specialist Mod retailers can come in. Makers who realise that fashions might change, but style is always in demand.
As I said, the off-the-peg 'Mod suit' used to look terrible some years back. Far from smart. All too often cheaply made and with very little room for adjustment. Cheap material, too tight, and very little variation.
Some retailers have acknowledged that not everyone can afford to go bespoke, but they still want a good-looking suit. Ideally, one that looks like it was made for them and made from cloth that looks to be out of a tailor's material book.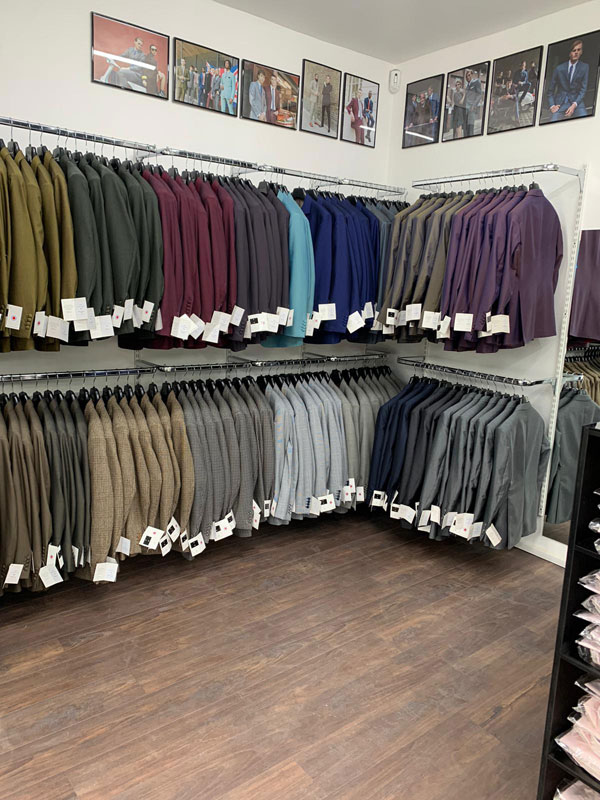 One place doing this longer than most is Adam of London, which has outlets both in Berwick Street (W1F 8SE) and Portobello Road. Adam of London has been retailing suits since the 1970s, with Shener Adam completing his bespoke apprenticeship back in 1968 and designing for the likes of Lord John, Take 6 and John Stephen. So some pedigree. Suit prices here range from £395 to £525. So significantly less than your typical UK-based tailor.
According to Richie at Adam of London, their suits are based on 'the classic tailored early to mid-1960s look', with both shirts and suits having a tailored fit as opposed to the skinny high street look.
'It is essential that a suit fits properly…we would not sell a suit to a client if it did not fit properly and would carry out the adjustment so that it did.'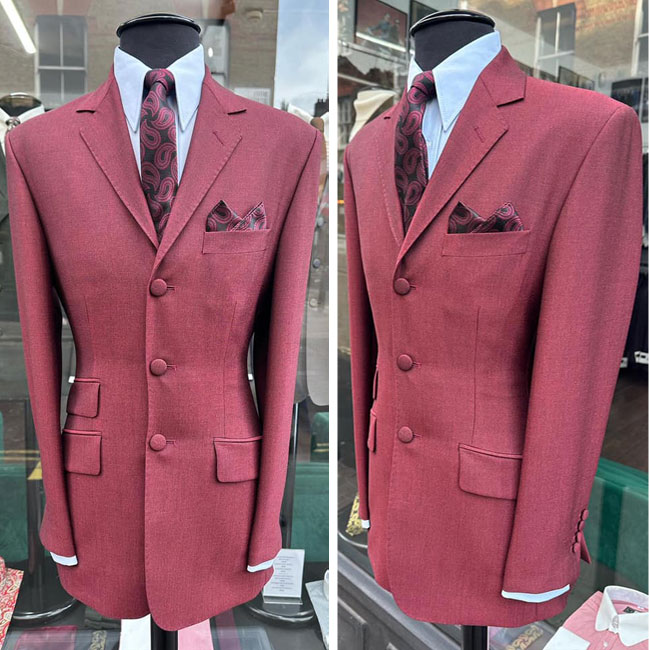 Of course, that would only be the case if you visited the store, so a visit to the store is perhaps the best option after a browse online.
'We are very good at knowing what alterations a customer needs in order to eliminate any of the common problems you have with a badly fitting suit. It's not about doing huge alterations and completely changing the structure; more like simple tweaks here and there. You would be surprised how many different body shapes can fit a ready-to-wear suit if the garment has been put together properly. It's also about offering a large range of sizes for different heights and builds whilst being prepared to change trouser sizes and not set the drop in stone.'
In terms of the cloth, Adam of London tends to go with what you would expect of a tailor.
'The quality is no different to a made-to-measure suit, for example, superb British Cloth, floating horse canvas chest piece, Superfine Wool and Kid Mohair fabric, functioning cuffs, AMF stitched lapels and front edges, quality British lining and much more.'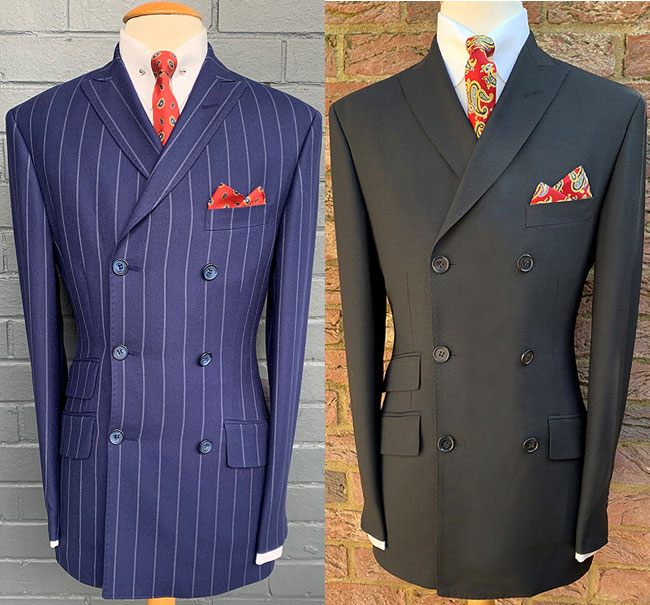 According to Richie, not only is it important to have a good suit in your wardrobe, but it is also essential.
'Better to have one good suit than several badly made ones.'
Brighton-based retailer Jump The Gun is another stop-off for ready-made suits, which are loosely based on a late 1950s, early '60s style, selling for around £425 to £475 and using UK-made superfine wools or 3-ply tonics.
According to Adam at Jump The Gun:
'Our classic three-button version is slightly shorter and a bit boxier than other makers, which gives it a touch harder look. Still very fitted but not overly waisted. Twin vent with three slanted pockets. All our trousers are flat front and slim fitting with frog mouth pockets and side adjusters.'
'Also, we now make a two-button version (The 'Lawford') which is more of a late 50s Be Bop jazz scene look. Squared-off pockets with no ticket pocket and a short single vent. Jazz scene meets Ivy look is our aim. What we consider to be very early Mod.'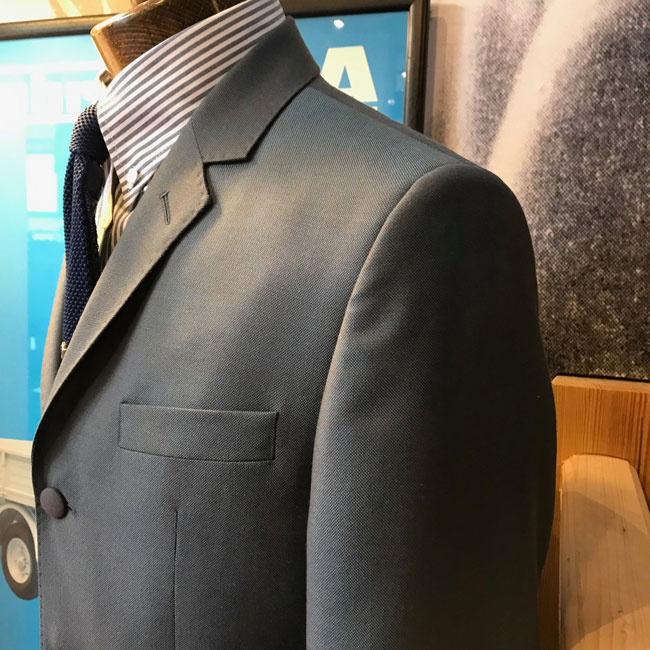 In terms of fit, again, it's the better option to go in, although JTG will work to your own measurements if you email or phone them in (should Brighton be a stretch for you).
'We really are here to help. As long as you can get the chest and shoulders to fit as they should, then a decent tailor can usually tweak the rest if needed. Never be afraid of small alterations if you want an off-the-peg to fit like it was tailored for you.'
I asked if the quality of ready-made has improved over recent years.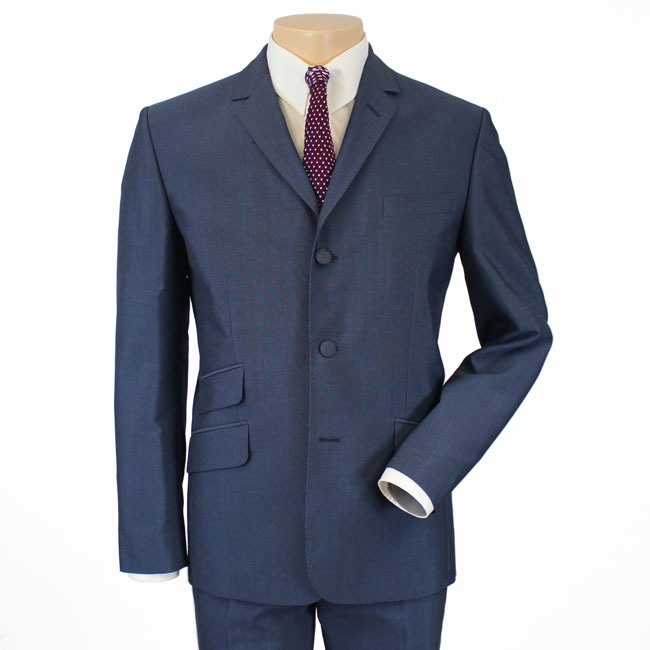 'There is definitely an improvement from some makers recently. Mostly in the cut (a lot of suits seem to look more like ours nowadays), but the cloth and construction used by most of the 'off the peg' choices out there are still pretty poor overall. Ourselves and Adam of London are still way ahead, in my opinion.'
'Suits are a large part of what we do. Excellent quality UK cloths, Floating chest pieces, working cuffs, and better made than most. A suit is a reasonably complex thing to make and an expensive item to buy, so we pride ourselves on being one of the best in style and quality, as well as closely working with customers to get that fit just right. We're here to make you look super sharp, so If the suit doesn't look right on you then we'll tell you, trust me.'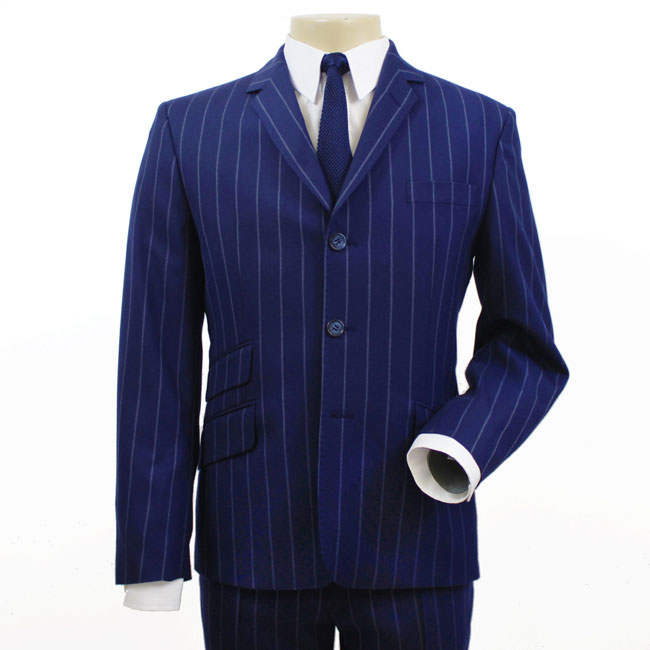 'If you're going to wear a suit even occasionally, then having a decent one that fits and makes you feel great really helps. A good-fitting quality suit in stunning cloth will encourage you to wear it more often too. Don't just keep it in the wardrobe for the odd occasion; get it out whenever you have the chance. I always say it's hard to be overdressed but very easy to be underdressed.'
Even allowing for the odd tweak, there does seem to be quite a gap between bespoke and ready-made. It's a gap that DNA Groove has been working for quite some time.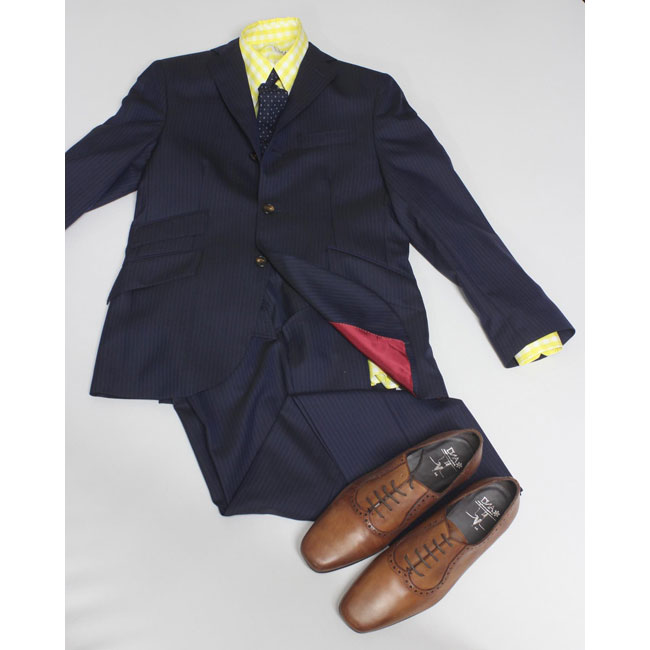 Known for its wonderful shirts and knits, DNA Groove also does suits. But not quite as off-the-peg as the previous retailers. Claudio at DNA Groove focuses on made-to-measure online rather than off-the-peg, selling for between €730 and €750 for a two-piece. Jackets are around the €300 mark.
'I do a few styles in two different fits: a classic fit which is a slim fit but with less tapering at the waist, and an hourglass fit which nips in at the waist and flares at the skirt. The latter is a bit more of a dandy look, whilst the former is more of a traditional look. All are half canvassed and made in Italy.'
'I am introducing a third style which is a totally unconstructed, unlined, three roll two style which is made local to me (Spain) and is far less formal, both in the manufacturing and in the style.'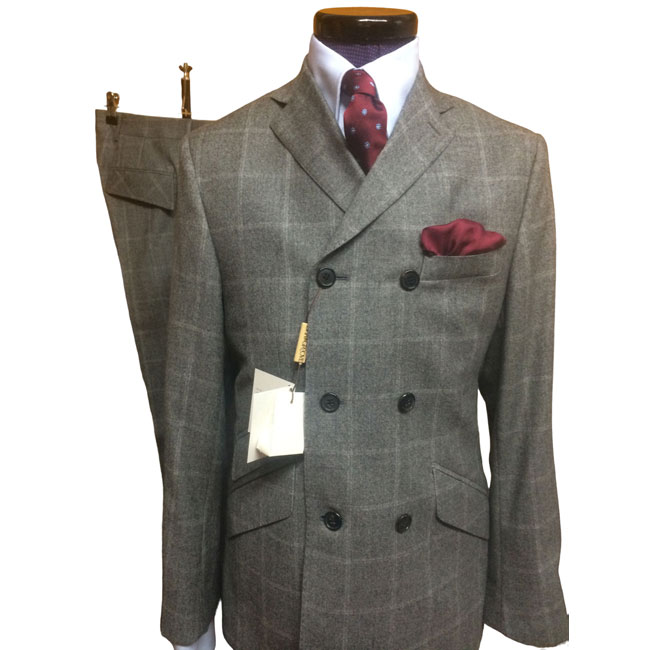 DNA Groove is strictly online, and of course, when buying a suit, that can cause issues.
'You cannot guarantee anything if it is online clothing. There is always a remote possibility that something can go wrong, and I strive to keep it as remote and as little as possible. Communication is essential. Also, my 20 + years of experience selling all items online is fundamental; asking the right questions, foreseeing the issues or even the mistakes the customer can make whilst taking his measurements or interpreting measurements sent with the items I am getting made.'
'Post-sales customer care is important too, and how to resolve any issues that might arise. Offering a made-to-measure option cuts down on issues, no doubt; that is why I prefer to sell these rather than off-the-rail suits (which I barely stock now).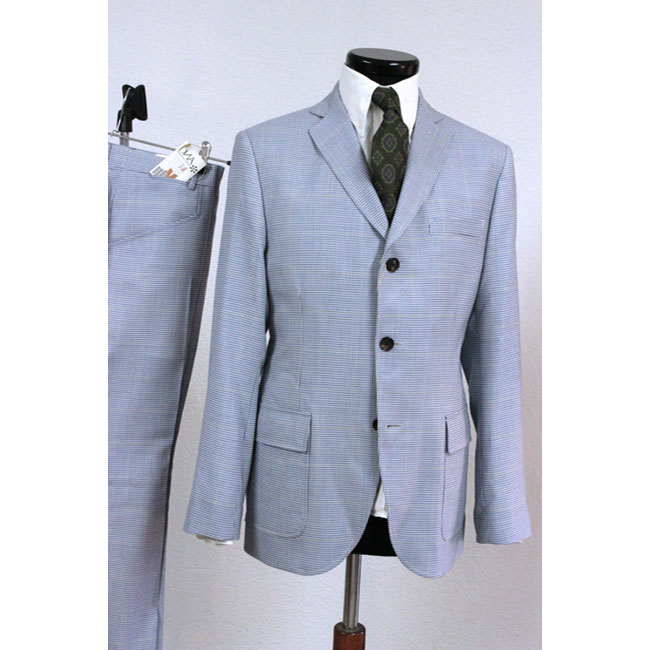 The quality of Claudio's product has been consistently high for years, with plenty of repeat customers and some famous buyers too – Paul Weller, Steve Cradock and Martin Freeman, to name just three. And he's quick to point out that going cheap doesn't do you any favours in the long run. So what are the benefits of buying from DNA Groove?
'You are buying a great quality product made with very high-quality fabrics. You are buying traditional Italian artisanship but with the eye of someone who has been in and around the scene for 35 yrs or so and in the online sales business for 20+ years. After speaking with the customer (there is still that 'be-spoke' element even if it's MTM) I know the look he is going for because I have been there too, done all the many styles within our scene, and have done them almost to an obsession.'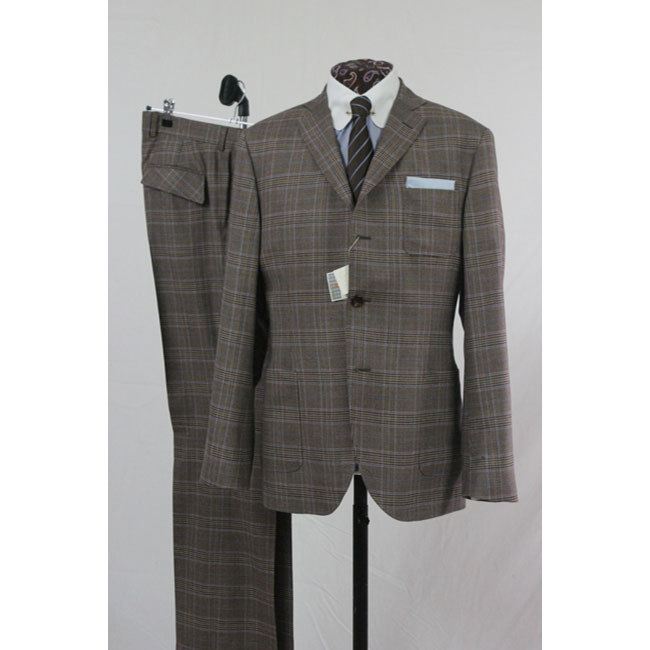 So does everyone need a good suit?
'Certainly, not only for practical use (work, celebrations, etc.) but for the mere act of self-fulfilment, the pleasure that one gets when wearing a well-made garment that is a piece of artisanship and that is most probably made in but a handful of pieces when not as a single one-off item.'
'It's also a f**k you to the ever more popular notion of dressing down all the time. It has indeed become somewhat of a sign of rebellion suit-wearing; I am, of course, referring to a suit with attitude and quality. And if we are not ready to rebel even in such a subtle, quiet way – despite our older age – then what's the point?'
Which seems like the perfect place to end. Yes, you can go to a tailor, and as I said earlier, it's a great experience if you have the time and money to do so. Seeing something gradually coming together over weeks and months based on your input and the tailor's skill and experience. But not everyone has that time and money available.
Other options are available, and all three makers/retailers featured here will happily chat with you about buying a suit. A good suit doesn't have to cost a fortune. It's about knowing where to look.
Love Modculture? If you enjoy what you read or have benefitted from it and want to
help with the ever-increasing costs of the site and newsletter
, you can always
buy me a coffee at Ko-Fi
. Every penny is helpful and appreciated.