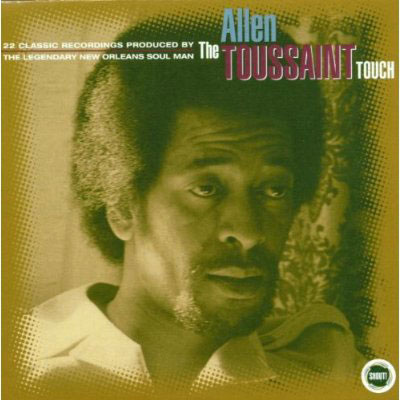 '22 Classic Recordings By The Legendary New Orleans Soul Man'. Yeah, that just about says it all about The Allen Toussaint Touch.
Producer, writer, musician, and a man with magic in his hands.
Allen Toussaint really is the sound of New Orleans soul and more than worthy of the 'legendary' tag.
Numbers like 'Fortune Teller' and 'Lipstick Traces' by Benny Spellman, 'A Certain Girl' by Ernie K-Doe, Jessie Hill's 'Ooh Poo Pah Doo' and 'Scoop Scoobie Doobie', Irma Thomas' 'Ruler Of My Heart' and Aaron Neville's 'Waiting At The Station' should be familiar to music fans everywhere. Then of course there are a host of others that aren't as well known though still absolute classics.
Ever hear Willie Harper's version of the Lee Dorsey favourite 'Here Comes The Hurt Again'? What about anything by Zilla Mayes, Diamond Joe, The Stokes, Eldridge Homes or Warren Lee? If not then I suggest you reach out immediately for a touch of Allen Toussaint's magic.
Find out more about the CD at the Amazon website